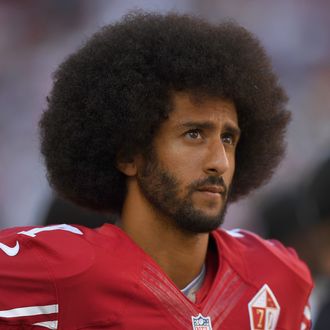 Photo: Thearon W. Henderson/Getty Images
In each of the first five games of this NFL season, the San Francisco 49ers have trotted Blaine Gabbert out as the team's starting quarterback. He's been bad, but the Niners seemed reluctant to turn to backup Colin Kaepernick. Not for the reason you might think, though.
Kaepernick's protests during the national anthem weren't keeping him on the bench — his contract was. Signed after his breakout season in 2013, the contract was structured in such a way that the Niners would have been on the hook for $14.5 million in 2017 season if Kaepernick got hurt this year. But if he was healthy at the end of the season, the Niners could cut him and save tens of millions of dollars. That's exactly what many have assumed they would do.
Now, just a day after he was named the team's starter, Kaepernick has restructured the deal in a way that must have the owners of the Niners dancing in the end zone. The new contract erases his old one and eliminates the Niners' liability if he gets hurt. In exchange for that concession, Kaepernick gets to choose if he stays in San Francisco at the end of the year. He can remain a 49er and make $16.5 million in 2017, or he can become a free agent.
If he's somehow able to string together a successful season, free agency could be very lucrative. But a return to his numbers from 2013 and 2014 isn't the only thing standing in his way. Kaepernick's protest might not have been keeping him off the field in San Francisco, but it certainly could keep other teams from signing him. Just over a month ago, Kaepernick was branded a "traitor" and named the most hated player in the NFL since Rae Carruth, a former wide receiver who hired a hit man to kill his pregnant girlfriend.