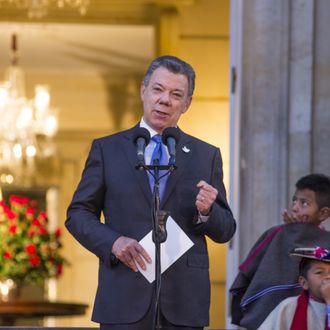 President Juan Manuel Santos in Bogota, Colombia, on October 10, 2016.
Photo: Anadolu Agency/Getty Images
Colombian president Juan Manuel Santos, fresh off his Nobel Peace Prize win last week, announced on Thursday that he is extending the cease-fire between the government and FARC rebels through December 31. Earlier this month, voters narrowly rejected a peace agreement that would have ended 50 years of war.
Talks between Santos's government, the opposition Democratic Center Party, and the rebels are continuing. On Wednesday, the Democratic Center Party released a proposal calling for banning rebel leaders found guilty of atrocities from holding office, and getting rid of a special tribunal to try those accused of war crimes, according to The Wall Street Journal. The opposition did not object to Santos's proposal to let FARC keep seats in congress, and to keep commanders out of jail.
Santos said he was inspired to keep working to salvage the deal after speaking with students who organized demonstrations in Bogota to show support for the accords.
"One of the students reminded me, that in the army and in the guerrilla ranks, there are young people waiting to see what happens, hoping that they don't need to fire another shot," Santos said in a televised address, according to Reuters.