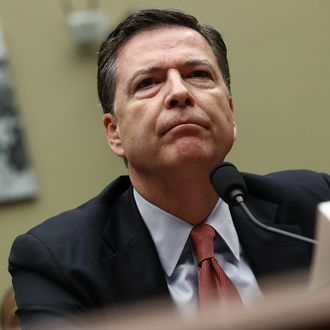 Photo: Win McNamee/Getty Images
FBI director James Comey has been accused of violating Justice Department policy by announcing the discovery of potential new evidence in the Hillary Clinton email investigation on Friday, and now, in keeping with this election's theme — I know you are, but what am I? — some say he may have also violated federal law.
The Hatch Act is a Depression-era law that prohibits most employees in the executive branch of the federal government from using their position to influence an election.
In a Sunday New York Times op-ed, Richard W. Painter, a professor at the University of Minnesota Law School and the chief ethics lawyer in the George W. Bush White House from 2005 to 2007, revealed that he has filed a complaint against Comey with the Office of Special Counsel and with the Office of Government Ethics for violating the Hatch Act. Comey said in a letter to FBI employees that he felt he had to inform Congress, and the American people, that his testimony that the Clinton investigation was complete was no longer correct. Painter argues that's no excuse:
It is not clear whether Mr. Comey personally wanted to influence the outcome of the election, although his letter — which cast suspicion on Mrs. Clinton without revealing specifics — was concerning. Also concerning is the fact that Mr. Comey already made unusual public statements expressing his opinion about Mrs. Clinton's actions, calling her handling of classified information "extremely careless," when he announced this summer that the F.B.I. was concluding its investigation of her email without filing any charges.

But an official doesn't need to have a specific intent — or desire — to influence an election to be in violation of the Hatch Act or government ethics rules. The rules are violated if it is obvious that the official's actions could influence the election, there is no other good reason for taking those actions, and the official is acting under pressure from persons who obviously do want to influence the election.
Senate Minority Leader Harry Reid made the same accusation in a more dramatic fashion later in the day. "Your actions in recent months have demonstrated a disturbing double standard for the treatment of sensitive information, with what appears a clear intent to aid one political party over another," Reid said in a letter to Comey. "Through your partisan actions, you may have broken the law."
In an apparent effort to even the score, Reid suggested that the FBI is sitting on "explosive information about close ties and coordination between Donald Trump, his top advisors, and the Russian government." Reid claims that he wrote to the FBI months ago demanding that the information be made public, but Comey has resisted. While intelligence officials have said Russia is attempting to influence the U.S. election, no government agency has publicly accused Trump of working with them.
Reid concluded with a personal jab at Comey. "When Republicans filibustered your nomination and delayed your confirmation longer than any previous nominee to your position, I led the fight to get you confirmed because I believed you to be a principled public servant," he said. "With the deepest regret, I now see that I was wrong."
Republicans responded with equally dramatic attacks on Reid. In a Fox News interview Representative Trey Gowdy said, "Thank God he's leaving," adding, "I did not know Mormons used drugs. And anyone who is capable of sending out that press release has to be under the influence of something." Senator Tom Cotton tweeted:
For what it's worth, Reid was accused of violating the Hatch Act in spirit back in 2012, when he accused Mitt Romney of not paying taxes for 12 years and attacked him from the Senate floor. And even if Comey did violate the law, he might not care about the consequences. Painter notes, "The usual penalty for a violation is termination of federal employment." Comey began his ten-year term as director in 2013, but after this election, working under either President Clinton or President Trump would be extremely awkward.