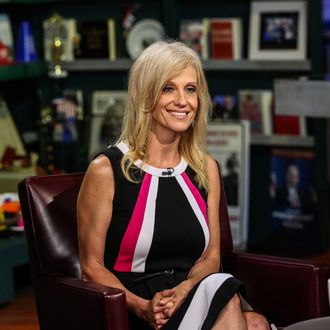 The only American who wants to see a fourth Clinton-Trump debate.
Photo: Chris Goodney/Bloomberg via Getty Images
Aside from undermining our democracy, the scariest aspect of Donald Trump's suggestion last week that he might not accept the results of the election was the prospect that the race could drag on far beyond November 8. On Sunday, Trump campaign manager Kellyanne Conway made a similarly frightening proposal, saying there should be a fourth presidential debate.
"The debates are a very unique opportunity for all of America to see these candidates side by side. And I wish there were more debates," Conway said in a radio interview with John Catsimatidis. "I think Donald Trump would challenge Hillary Clinton to another debate for a very simple reason: Unless you are a money donor, you are not going to have much access to Hillary Clinton out on the stump now."
"I really feel like the country benefits from this type of forum, and we'd be willing to have another one if somehow they can squeeze it in," she added.
In a typical presidential election, that might be true, but during this year's three debates, Trump threatened to jail Hillary Clinton, called her names, and tried to stage a televised confrontation between a former president and women who have accused him of sexual assault. Many called the second debate a low point in the history of presidential politics, and after the third forum, there was widespread relief that it was all finally over.
While Conway claimed that internal polling shows "positive movement in some of the swing states," it's unclear from the outside why the Trump campaign would want another debate. Clinton saw a bump in most post-debate polls, and the latest has her ahead by 12 points.
Luckily for Americans already weary of this remarkably nasty election, there's essentially no chance that they'll have to endure another 90-minute Trump-Clinton showdown. The Republican nominee attacked the nonpartisan Commission for Presidential Debates and suggested that he might not show for the third debate, saying he was "done." Despite what Conway says, it seems unlikely that he'd agree to an event hastily thrown together by an organization he already thinks is "rigged" against him.