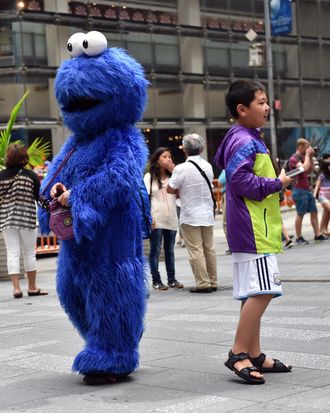 Not-so-happy Halloween.
Photo: STAN HONDA/AFP/Getty Images
Costumed characters clashed Saturday evening near Times Square when a Cookie Monster was stabbed in the back after trying to break up a fight, reports the New York Post. A man dressed as a Tuskegee airman allegedly began brawling with a man clad in a Native American costume, whose getup the pilot found offensive.
The Cookie Monster, who was actually 24-year-old Christopher Ramos, reportedly tried to step in, when the airman pulled out a knife and thrust it into Ramos's back.
Ramos/Cookie Monster was hospitalized with a lacerated spleen, but his injuries aren't life-threatening. Police are still looking for the 30-year-old airman and the guy dressed as a Native American, who appears to have sparked the bloody fight.