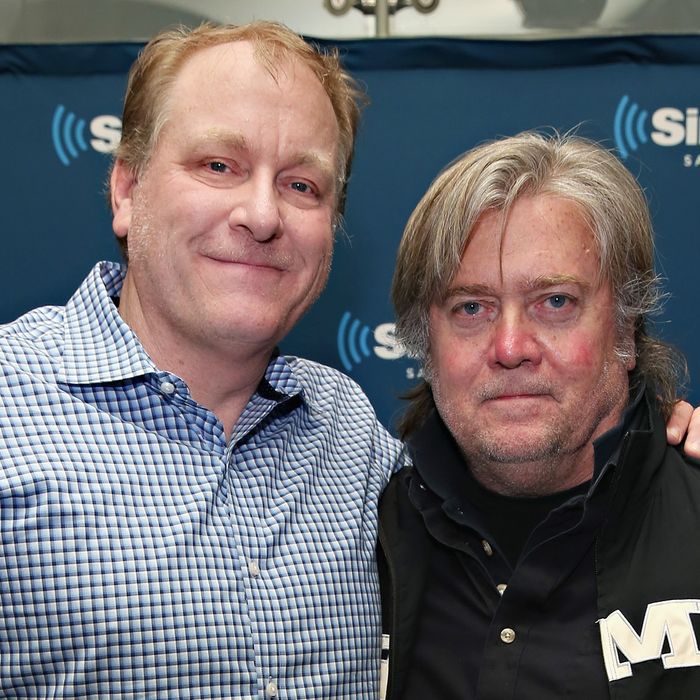 Schilling and Bannon during SiriusXM's Breitbart News Patriot Forum in April.
Photo: Cindy Ord/Getty Images for SiriusXM
With it looking increasingly unlikely Donald Trump will be heading to the White House, the prospect that he will partner with his campaign CEO, Breitbart executive chair Steve Bannon, to launch a Trump TV network seems more and more probable. In the meantime, the right-wing website is staffing up with potential on-air talent.
On Monday, Breitbart plans to announce that former Red Sox pitcher and Trump supporter Curt Schilling will begin hosting a daily online radio show featuring political commentary and calls from listeners. The broadcast will eventually include a video livestream. The show marks Schilling's return to media six months after ESPN fired him for sharing an anti-transgender Facebook post with a message that read: "A man is a man no matter what they call themselves. I don't care what they are, who they sleep with, men's room was designed for the penis, women's not so much. Now you need laws telling us differently? Pathetic."
"He got kicked off ESPN for his conservative views. He's a really talented broadcaster," Breitbart editor-in-chief Alex Marlow said.
Schilling's jump to Breitbart will give him a national platform as he prepares to challenge Elizabeth Warren for her Senate seat in 2018. And for Bannon, it offers a chance to lock down talent for a post-election venture with Trump. While Trump could launch his own independent media company, partnering with Breitbart represents a potentially less-risky strategy. The alt-right site has a massive following among the Trump faithful. And the connections between Trumpworld and Breitbart go beyond Bannon. Robert and Rebekah Mercer, conservative megadonors who invested millions in Breitbart, have also been leading supporters of the Trump campaign. It wouldn't be big surprise if they put money into a Trumpified Breitbart media company after the election.