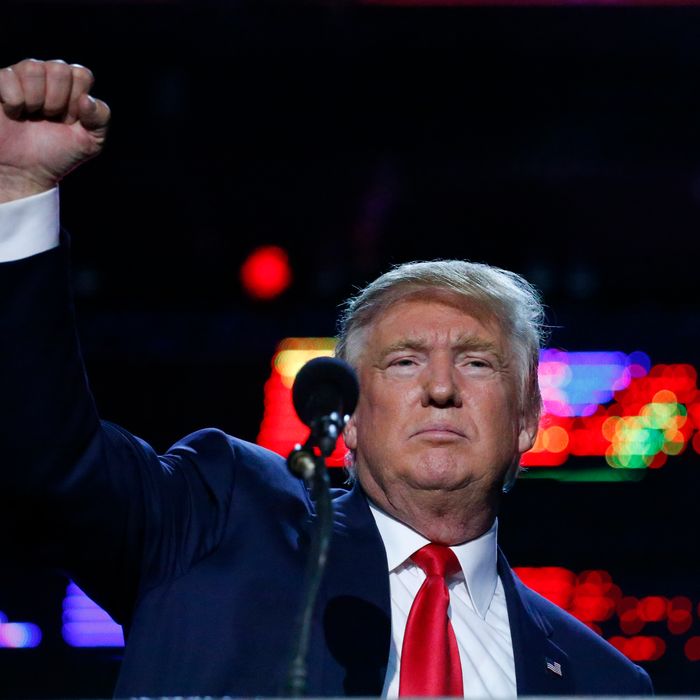 Stop everything!
Photo: Kena Betancur/Getty Images
It emerged on Tuesday that Donald Trump has already held his last high-dollar fundraising event before Election Day, hampering the Republican Party's get-out-the-vote effort.
In an interview with the Washington Post, Steven Mnuchin, Trump's national finance chair, confirmed that the last big-ticket fundraiser hosted by Trump Victory — a joint endeavor between the Trump campaign and the Republican Party — was held in Las Vegas before the second presidential debate on October 19, and no other events from Trump Victory are planned before the election.
Though it isn't uncommon for candidates to cease major fundraising this close to the election, Trump Victory had been a lucrative partnership for the GOP, bringing in $40 million as of September. Now, the lack of fundraising could put a strain on the GOP's get-out-the-vote efforts when the party needs them most. Though the Trump campaign's online fundraising will continue, the Republican National Committee only gets 20 percent of that money.
As a point of comparison, Hillary Clinton appeared at her last planned big-ticket fundraising event on Tuesday night, though her campaign has 41 other events planned before now and the election.
Lew Eisenberg, the chair of Trump Victory and one of the RNC's largest donors, seemed reluctant to stop: "Unlike the period from June 1 to today, we have no organized calendar of events for the next 14 days," he said, adding hopefully, "Rather, when the opportunity presents itself, we will have ad hoc fundraisers."
There is talk that Trump surrogates may host smaller fundraisers for Trump Victory, but for now it seems that nothing is planned. Trump's advisers have apparently decided that the candidate's energies are better spent getting his supporters to the polls rather than raising money for the party.
At the beginning of October, Trump's campaign had raised $219 million compared to Clinton's $499 million, a discrepancy that Trump's campaign staff seems to view with pride.
"We have minimized his fundraising schedule over the last month to emphasize his focus on political [events]," said Munchin, "Unlike Hillary, who has been fundraising and not out and about, he has constantly been out and about."