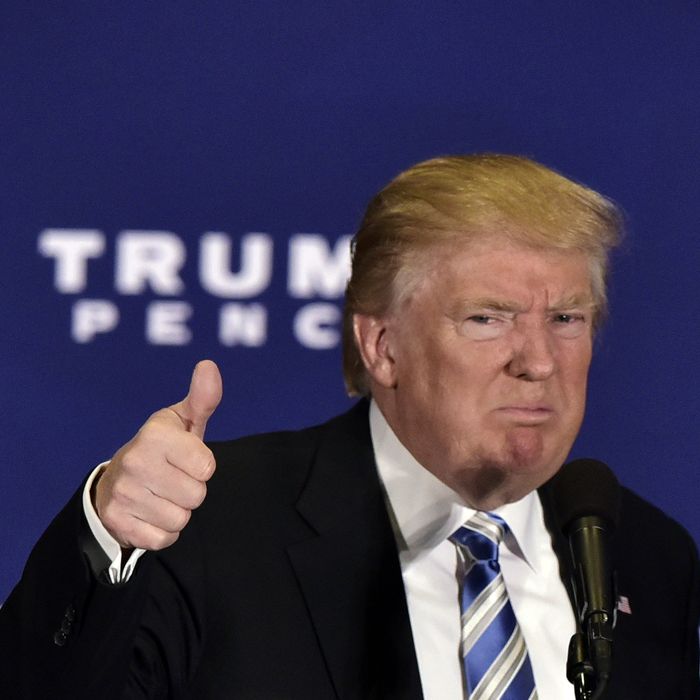 Trump has previously insisted that the women who have accused him of making unwanted sexual advances on them were not attractive enough to warrant his attention.
Photo: Mandel Ngan/AFP/Getty Images
Donald Trump, in a speech that was billed as him making his closing argument of the campaign and outlining what he will do in his first 100 days in office, claimed that he will file lawsuits against the women who have come forward to accuse him of sexual harassment and assault. CNN reports that Trump, speaking Saturday at a campaign rally in Gettysburg, Pennsylvania, alleged that "every woman lied when they came forward to hurt my campaign" and repeated his blanket denial of any misconduct toward the women. He then added that "all of these liars will be sued after the election is over." It's worth remembering, however, that threatening a lawsuit and actually going forward with one are two very different things, particularly as Trump would have to go through the process of discovery as part of any lawsuit.
Then again, Trump also suggested on Saturday that the legal process could prove his unsubstantiated theory that the Clinton campaign is responsible for the women's accusations, saying that the campaign and the Democratic National Committee were "probably" the ones who put the women forward, and that "we'll probably find out later through litigation, which we're so looking forward to."
In the two weeks since the release of a 2005 Access Hollywood tape in which Trump explicitly boasts of his ability to grope women due to his fame, ten women have come forward to allege that Trump made unwanted sexual advances on them.
Right before making the lawsuit threat against the women, Trump also signaled that he would use the presidency to target media conglomerates that he views as his enemies — including the AT&T/Time Warner union as well as Amazon/Washington Post and Comcast/NBC — using the logic that they have all become too powerful (at ruining Trump's campaign, it would seem, though, there are also several legitimate reasons to be wary of media consolidation, for what it's worth).

So when Trump said he would sue all the "liars," he was referring to the women who have accused him, the media outlets that have published the women's accusations, and the corporate media complex that has allowed those accusations to reach wide audiences; and the latter plan would involve the full power of the presidency.
And what about those first 100 days in the White House that were supposed to be the main focus of Saturday's speech (and at least two other speeches earlier this year)?
This post was updated to detail Trump's plans to go after media conglomerates as well as the women who have accused him of making unwanted sexual advances.