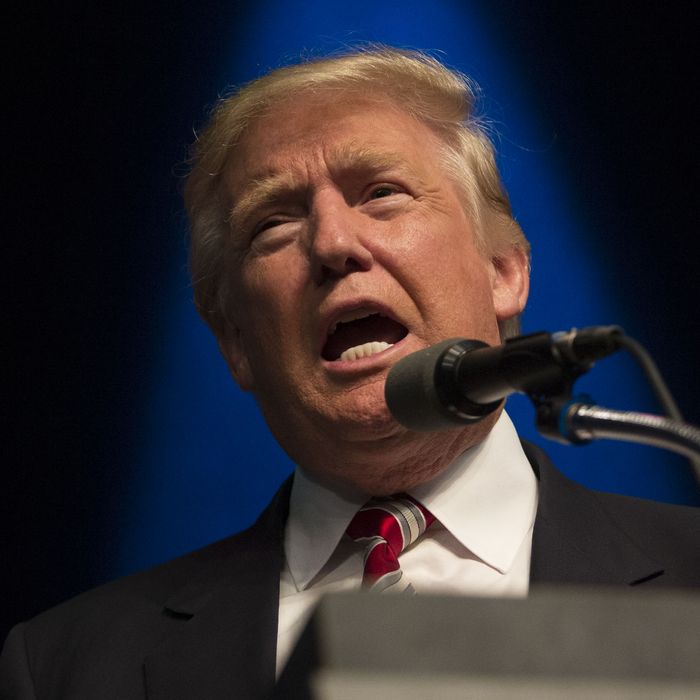 Photo: Daniel Acker/Bloomberg via Getty Images
On Tuesday night, Donald Trump live-tweeted the vice-presidential debate — while no fewer than four campaign staffers peered over his shoulder.
This pit crew largely succeeded in keeping the GOP nominee's tweets roughly as boring as the debate he was commenting on. Instead of broadcasting the musings of an unhinged, eccentric billionaire — whose obsessions include haters, losers, sex tapes, and taco bowls — @realdonaldtrump spent the debate imitating a garden-variety, unhinged, right-wing Twitter egg.
The majority of his output consisted of ALL-CAPS EXCLAMATIONS ABOUT HOW HILLARY CLINTON IS VERY BAD, UNLIKE MIKE PENCE, WHO IS VERY GREAT …
… Or RNC-approved memes expressing the same sentiments.
Still, even a kitchen full of cooks couldn't keep Trump from throwing some bitter herbs into the stew. During a pre-debate broadcast, Fox News's Megyn Kelly claimed that all of Trump's debate tweets would be preapproved by his campaign manager Kellyanne Conway. Six minutes into the debate, the Republican nominee felt compelled to explain that Conway was not among his designated babysitters for the evening.
Later, he approvingly quoted a fan who likened Tim Kaine to a Batman villain (possibly because Kaine rhymes with Bane?).
These were the only distinctly Trumpian odd notes. But it was a little strange for Trump to retweet the following, from Republican National Committee communications director Sean Spicer, while his running mate called for nationwide criminal justice reform.
Perhaps, the Trump-Pence plan for reforming the criminal-justice system involves denying suspected murderers a right to representation?