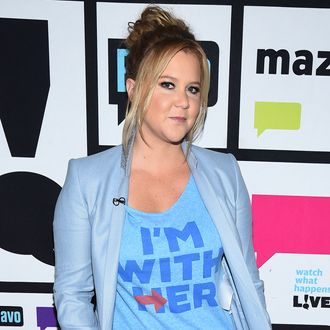 She's not exactly hiding it.
Photo: Bravo/NBCU Photo Bank via Getty Images
On Sunday night, about 200 people walked out of Amy Schumer's show at the Amalie Arena in Tampa, Florida, after she called Donald Trump, among other things, an "orange, sexual-assaulting, fake-college-starting monster." It's unclear if the audience had never heard Schumer's comedy before or if they just didn't like hearing their preferred candidate mocked.
The number of audience members who booed and eventually left was relatively small, according to the Tampa Bay Times. (The arena has a capacity of roughly 20,000 and was the site of the 2012 Republican National Convention.)
About halfway through the show, Schumer began discussing political topics, including the election and gun control. The Times reports:
She made it clear she doesn't understand how people can support Trump. At one point she asked for a Trump supporter — preferably one with sleeves, she she told security personnel — to join her up on stage to explain their enthusiasm for Trump. One fellow did, but he said he was voted for Trump mainly because doesn't trust Clinton. When some audience members booed, the actor and comedian invited them to leave and also asked security to remove anyone booing.
Two people told the Times that they felt the show became too political, and some echoed that feeling on Twitter:
Others praised Schumer for inviting victims of sexual assault to stand up while discussing the allegations against the Republican candidate. (The comedian revealed recently that she has been the victim of sexual assault.)
Unsurprisingly, Schumer hasn't been quiet about her political positions. She's been pushing for stricter gun-control laws — with the help of her cousin Senator Chuck Schumer — since summer 2015, when two women were killed when a man opened fire at a screening of her film Trainwreck in Lafayette, Louisiana.
In March, she announced that she supports Hillary Clinton, and Clinton comes up in her comedy frequently. Earlier on Sunday, Schumer was registering voters in Florida while wearing a "feminist for Hillary" button (and a "Make America Ferrera Again" shirt).
This post has been updated to include video of Schumer's show in Tampa.