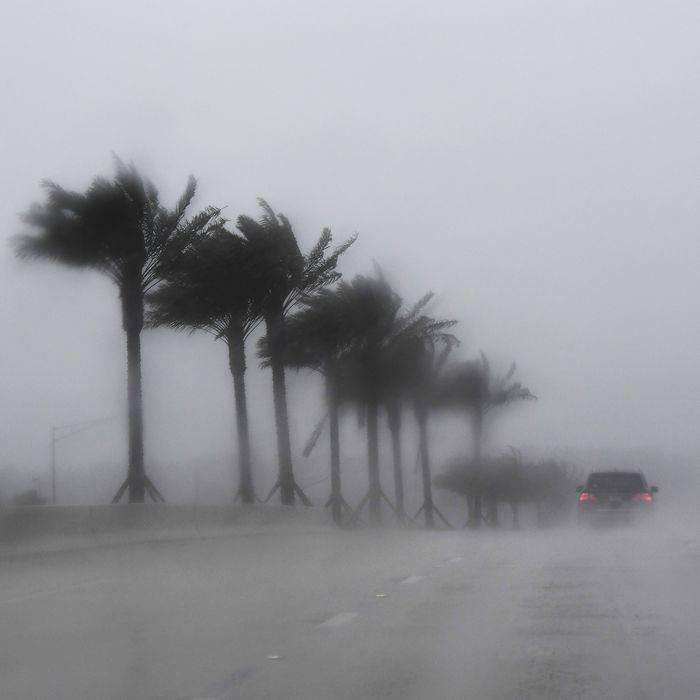 False flag.
Photo: Jewel Samad/AFP/Getty Images
Hurricane Matthew just killed more than 100 people in Haiti. When the Category 4 storm reaches the Florida coast, it will be the largest hurricane to hit the Sunshine State in a decade. Authorities are desperately trying to convince 2.5 million Americans in Florida, Georgia, and South Carolina to leave their homes for safer ground.
But Matt Drudge is concerned that this "impending hurricane" narrative is a bit too convenient: One minute, Obama says climate change is real and could increase the frequency of extreme weather events; several years and hurricanes later, another extreme weather event appears just as Hillary Clinton is campaigning to succeed him.
As Vox's Libby Nelson notes, the Drudge Report then sent out this tweet, which links to an article that says nothing about the storm fizzling.
It's difficult to convince human beings to abandon their homes, even when their lives may depend on them doing so. By suggesting that true conservatives don't believe in hurricanes, Drudge is making that task even more difficult.
It shouldn't be hard to reconcile climate-change denial and acceptance of meteorology. Even Florida's terrible governor can do it.
"If you need to evacuate and you haven't — evacuate!" Rick Scott said Thursday. "This storm will kill you."