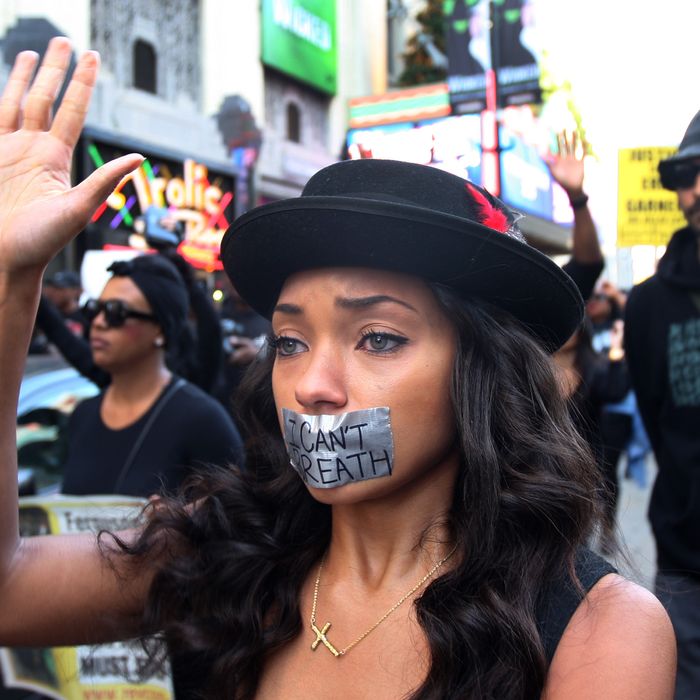 A protestor marches following Eric Garner's death.
Photo: David McNew/Getty Images
The Justice Department announced on Monday that it has replaced the team of officers and lawyers charged with investigating the death of Eric Garner, according to the New York Times.
The decision has given hope to those exasperated with the stalled investigation and raised the possibility that investigators may in fact seek charges in Garner's death.
Garner, 43, was killed on Staten Island in 2014 after an altercation with two police officers who accused him of illegally selling cigarettes. An officer was caught on video holding Garner in a chokehold before he died. His last words, "I can't breathe," became a common refrain of protestors and activists against police brutality.
Federal investigators had been scrutinizing the case, but their investigation had slowed to a stand-still thanks to a dispute between federal prosecutors with the Civil Rights Division and F.B.I. officials in New York. While the F.B.I. said that no charges should be brought against the officers, the Justice Department disagreed.
Last month, the New York–based F.B.I. agents were removed from the case and now the federal prosecutors have also been reassigned.
An attorney for Officer Pantaleo, the police officer shown using a chokehold on Garner, said that he did not violate anyone's civil rights.
"If it is true that the Justice Department is rejecting the recommendations of seasoned F.B.I. agents and assistant United States attorneys," said attorney Stuart London, "this is a gross miscarriage of justice. In our system of justice, politics should never take the place of the rule of law."
A New York jury refused to indict Pantaleo in 2014, but there is still the possibility of federal charges.