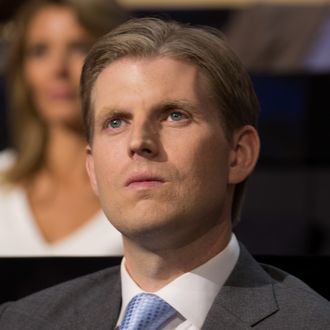 Eric Trump.
Photo: Tasos Katopodis/WireImage
Donald Trump did his own post-debate spin last week, but for the vice-presidential debate he delegated the task to his campaign manager, Kellyanne Conway, and his son, Eric Trump. They both denied accusations that Trump doesn't pay federal income taxes, apparently unaware that the correct response to such questions is a terse "that makes him smart."

After the New York Times published pages from Trump's 1995 tax return, revealing that he suffered a loss so huge it could have wiped out his federal income taxes for 18 years, the Trump campaign offered this response: "Trump has paid hundreds of millions of dollars in property taxes, sales and excise taxes, real estate taxes, city taxes, employee taxes, and federal taxes, along with very substantial charitable contributions."

The statement does not explicitly say that Trump paid federal income taxes, nor does it specify how much of those "hundreds of millions of dollars" went to the federal government. But on Tuesday Conway clarified to NBC News that Trump has "of course" paid federal income taxes "in the years that he had a profit."
How much, exactly? We still have no idea because, as NBC News sassily notes, Trump still won't release his tax returns.

In a tense interview with CNN, Eric Trump backed up the claim that his father has paid federal income taxes in the past 18 years. "Of course, yes, absolutely," he said.

"Why not release the income tax returns that are no longer under audit?" Wolf Blitzer asked.

 "My father said, when the audits are over he will release the taxes," Eric said, suggesting in the same breath that Trump would produce the tax returns if Clinton released her deleted emails and transcripts of her speeches to Wall Street.
Blitzer pressed him to answer the question, noting that Trump's taxes from 2002 to 2008 are no longer under audit. "I don't know if that's true," Eric replied. It is, according to a letter released by Trump's tax attorneys in March.

Eric spun out after that, demanding that the three CNN anchors tell him how Hillary Clinton earned a quarter of a billion dollars after leaving the White House. John King reminded him that (despite his father's accusations) they don't work for the Clinton campaign, and asked him to respond to Tim Kaine's accusation during the debate that Trump owes money to people in Russia.
"We have no assets in Russia. We have no debt in Russia. I haven't been to Russia in like six, seven years, off the top of my head, five years, six years, seven years? I mean it's nonsense," Eric said.
Eric claimed that's a lie concocted by the Clinton campaign, but in a 2008 speech, Eric's brother, Donald Trump Jr., said the company wanted to do business in Russia, and he'd been traveling there frequently. "Russians make up a pretty disproportionate cross-section of a lot of our assets," Donald Jr. said. "We see a lot of money pouring in from Russia." As the Washington Post notes, "It may be possible that [Trump] has no current investments in Russia, but not for lack of trying."
A tax return would show whether Trump has any Russian assets, though Eric says there's a better method. "If you want to know if we have assets in Russia, go look to see if our name is on a building, go look to see if we own any property there. We're a real-estate company. We're a bricks and mortar company. The reality is we don't. We just don't."
When it comes to debate spin, never send a boy to do a (con) man's job.