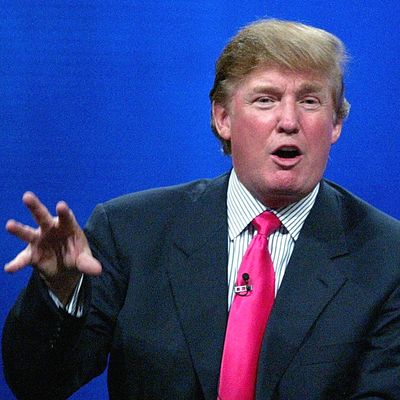 Apprentice executive producers Donald Trump and Mark Burnett at an event in 2004.
Photo: Frederick M. Brown/Getty Images
On Saturday, Bill Pruitt, a producer on the first two seasons of The Apprentice, claimed that there are "far worse" hot-mic tapes of Trump than the Access Hollywood one that was released on Friday. In that off-camera conversation with Billy Bush from 2005, Trump boasted of his ability to sexually assault women because he's famous. What could be worse than that? On Sunday, another veteran TV producer, Chris Nee — a Clinton supporter who did not work on The Apprentice — tweeted that according to producers and crew members she has spoken with, those tapes include Trump using the N-word. Nee makes it clear that she has not seen or heard the tapes herself, so the existence of any such recording remains no more than a rumor at this point.
Nee also claims that anyone caught releasing the footage would have to pay as much as a $5 million leak fee, per their contract with Apprentice executive producer Mark Burnett. Burnett, according to Buzzfeed News, is a Trump supporter and has already threatened to sue Apprentice staffers if they decide to leak outtakes from the show.

As seen above, Nee is trying to convince billionaire and longtime Trump antagonist Mark Cuban to reimburse the fee should somebody with access leak the footage. That doesn't seem likely, since Cuban both works with Burnett on Shark Tank and defended Burnett's position on the matter to Buzzfeed.
Last week, the Associated Press reported that, based on conversations with more than 20 people who worked or appeared on The Apprentice, Trump would sometimes sexually harass women on the show, often while cameras were rolling, suggesting that unedited footage of those incidents almost certainly exists somewhere. The network that airs The Apprentice, NBC, said on Saturday it does not own the footage. NBC also admitted to the Washington Post over the weekend that the reason it did not immediately release the Access Hollywood footage (supposedly the network was planning to issue a report) was because it was worried that Trump would sue. That delay was a possible factor in someone then deciding to leak the footage to the Post, which published the footage on Friday.