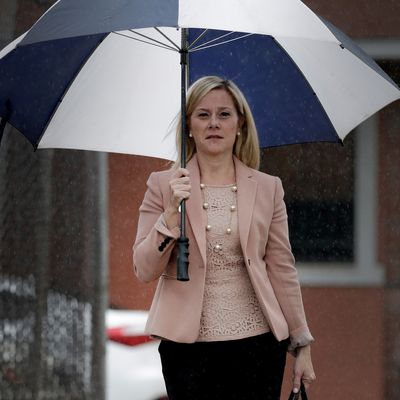 Bridget Anne Kelly, former deputy chief of staff for New Jersey Governor Chris Christie, arrives at federal court in Newark, New Jersey, on Friday, Oct. 21, 2016.
Photo: Peter Foley/Bloomberg via Getty Images
Bridget Anne Kelly, former deputy chief of staff to New Jersey governor Chris Christie, took the stand in the Bridgegate trial Friday and dropped a few bombshells. Kelly, who sent the infamous "time for some traffic problems in Fort Lee" email, testified that she told Christie about the "traffic study" plan in August 2013, a month before the George Washington Bridge lane closures.
Kelly, who's charged in the Bridgegate case, testified that she had discussed a traffic study with David Wildstein, a former Port Authority official who confessed to being the mastermind of the plot in August 2013. Kelly said Wildstein had emailed her, asking to discuss an issue that was "extraordinarily weird even by my standards." The two spoke on the phone, and Wildstein told her Fort Lee's access lanes to the GWB were tying up traffic on the bridge, and Wildstein wanted to do a traffic study on what would happen if Fort Lee no longer had that privileged route. Kelly said Wildstein told her it would cause major traffic problems, but the plan would boost the governor ahead of his reelection campaign — Christie would be able to take credit for easing traffic on the George Washington Bridge, reports the New York Times. Kelly alleges that Wildstein asked her to run the plan by Christie.

Kelly went to Christie with Wildstein's plan, and the governor allegedly told her it was fine. Christie then, according to Kelly, asked her about Fort Lee mayor Mark Sokolich:
Kelly met with the governor on August 12, 2013; the next day, she fired off her "traffic problems" message to Wildstein. Kelly testified that, at that point, she still understood the closures to be a legitimate traffic study — and not an alleged political payback against Sokolich for failing to endorse Christie. Kelly testified that "traffic problems" was a phrase she borrowed from Wildstein, one she used because she blasted off the message in a rush.
Kelly, along with Bill Baroni — a top Christie staff appointee at the Port Authority — are charged in the Bridgegate federal case. David Wildstein named them both when he pleaded guilty to his role in the plot, and is now the star witness for the prosecution. Wildstein had testified last month that he had told Christie about the lane closures after they began, at a September 11 memorial.
Christie, who has denied knowledge of the scheme, has not been charged — though he will have to testify next month to a criminal complaint surrounding his alleged involvement in Bridgegate.
Kelly took the stand in her defense, and her attorneys tried to portray her as an eager-to-please employee; she even said at one point that she was afraid of the governor. Kelly recounted Christie's alleged temper in her tearful testimony: