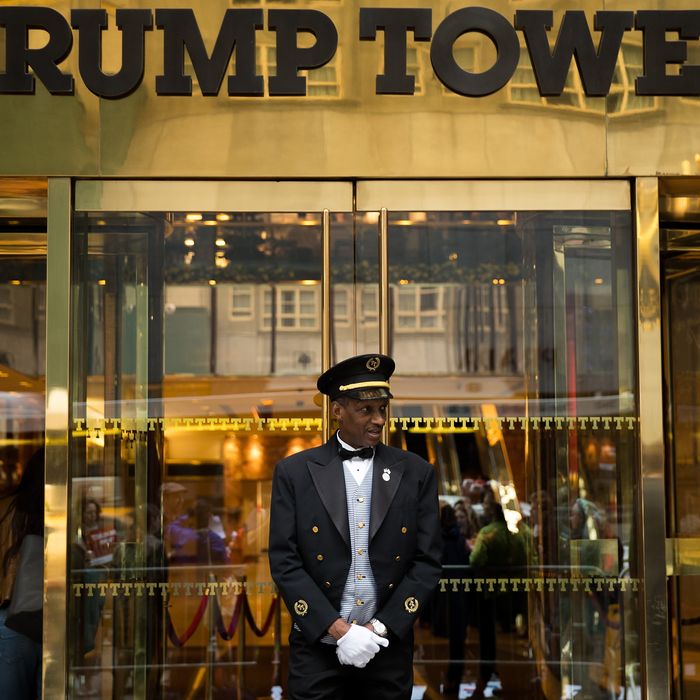 Where it all happened.
Photo: Drew Angerer/Getty Images
The man running Trump Tower for a decade was an ex-con who allegedly used his place in the company to set up a cash-for-jobs racket, forcing new employees to pay for their positions and threatening to fire them if they did not comply, according to a new report from the Associated Press.

It does not appear that Donald Trump was aware of his ex-employee's behavior.
George Gjieli had already been out of federal prison for six years when he was hired as Trump Tower's live-in residential superintendent after a face-to-face interview with Trump.
Gjieli's new boss was apparently not aware of his criminal past, which included attempts to bribe a U.S. Treasury agent with $100,00 to break his acquaintance out of Michigan state prison, where he was serving time for a triple murder. Gjieli described the bloody crime to the agent using racial slurs for the black victims, saying that the perpetrator "shot the f**k out of them." He's also been described by federal prosecutors as showing an "utter disdain for the laws of our country."

Even if Trump had discovered Gjieli's past, there is reason to believe he still would have hired him. Trump's longtime associations with criminals and other shady characters is a matter of record.
In his book The Art of the Deal, Trump actually brags about hiring a con man who stole $50,000 from the company, even stealing from the fund the secretaries used to buy funeral flowers, saying that his behavior was worth it because the con man was such a good manager.
More recently, Trump famously hired Felix Sater as a senior adviser, in 2010. At the time, Sater was a mafia-linked executive convicted of stock fraud who eventually turned state's witness.
Trump often couches his engagement with ex-cons in terms of giving them a second chance and an opportunity to get their lives back together. That may be so, but Gjieli, at least, did not seem to be reformed when he took up his position at Trump Tower.
Accusations have since emerged that Gjieli used his position to extort bribes in the form of envelopes of cash or even gold jewelry from other Trump Tower employees, making them pay for their positions or threatening to fire them if they did not comply. Elevator operator Ioan Ghilduta described in a 2005 deposition having to pay Gjieli $1,000 in cash and a gold crucifix upon getting the job, a practice he described as commonplace, saying, "All the guys pay the money."
Gjieli would even accept cash in his Trump Tower office to set people up with jobs in non-Trump buildings where he wielded influence.
One Trump Tower employee, Ilie Malancea — according to his family — was forced to give Gjieli gifts of gold jewelry upon securing his position and didn't see his situation much improved after Gjieli left in 2001. Gjieli's successor would allegedly angrily take Malancea to task for transgressions like telling a resident that a broken elevator was unsafe and being late to work after a doctor's appointment following heart surgery.
Gjieli has denied any wrongdoing, using an excuse that would make his old boss proud: blaming immigrants, this time the building's Romanian staff.
Still, there is no evidence that Trump knew about the nefarious behavior going on in his tower for more than a decade. Taking into account the recommendation letter Trump allegedly wrote Gjieli when he stepped down in 2001, let's hope that he didn't.