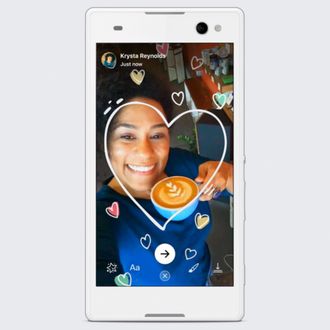 First, it was Instagram. And then came Apple. And now Facebook joins the never-ending lists of companies hoping to have some of that Snapchat magic rub off on them. Today, Recode reports that Facebook is testing a set of animated filters for use with a new ephemeral photo and video camera for its mobile app.
Sound familiar? (It should. This is basically Snapchat by another name.) The new camera is currently only available to some Facebook users in Ireland. Unlike traditional Facebook posts, the new camera will allow users to send images and videos, to specific friends, which will delete after 24 hours. "A camera button at the top of the News Feed will open the new interface and swiping to the right of the News Feed will show photo and video direct messages with friends," Business Insider reports of the new app feature.
The announcement follows Facebook's introduction of live video filters earlier this week. In the spirit of Halloween, Facebook users can now cover their faces in skull, pumpkin, or witch masks and broadcast videos. Which, come to think of it, isn't really an original idea either — Snapchat has offered a similar feature for some time now, and Chewbacca Mom has basically cornered the market on Facebook Live videos recorded from behind a mask.