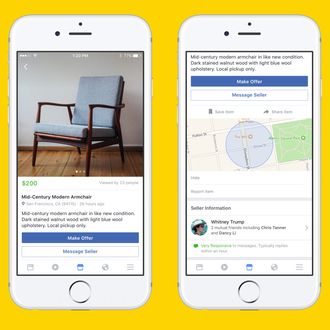 Starting this week, Facebook users in the United States, New Zealand, Australia, and the U.K. will be able to easily buy and sell items on the platform. The new feature, called Marketplace, is getting its own icon at the bottom of the Facebook mobile app. (It's right in the middle. You can't miss it.) Tap once to post an item or see what is for sale in your area.
According to Facebook, 450 million of their users already visit "buy-and-sell groups" each month. (You know, like that "Insert town name here" garage sale group your high-school ex keeps inviting you to join despite the fact that you moved away years ago.) Back in 2015, Facebook rolled out an update that made it easier for users to post for-sale items in these groups. With Marketplace, this process should get even more efficient.
Marketplace feels a lot like Craigslist, probably because at its heart, it is Craigslist. Posting an item is free and Marketplace also does not provide assistance for payment or delivery. The question now is if Facebook's new feature will be able to disrupt the internet's longtime favorite marketplace. (Or reach the same level of convenience and ease that Craigslist offers. As someone who lists two successful apartment sublets and one kitchen table among her best Craigslist scores, you're going to have a hard time convincing me I need to look anywhere else to find what I'm looking for or to sell my bedroom dresser in a hurry.) Still, Facebook's non-anonymized setup might have a leg up on Craigslist. Knowing who you are dealing with (and whether you have any mutual friends) takes a lot of the potential sketchiness out of buying and selling goods online.
Since the feature is still gradually rolling out over the next four days, we'll just have to wait and see. In the meantime, I've got four kitchen chairs from Ikea that need to go to a loving home. Will accept $40 for the lot, or best offer.