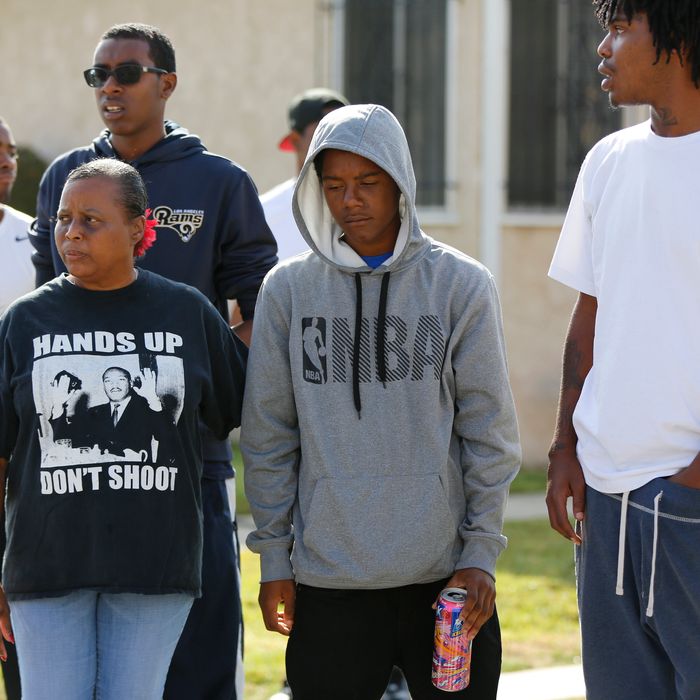 Activists gather in Los Angeles.
Photo: Damian Dovarganes/AP
The Los Angeles Police Department is investigating the fatal shooting of Carnell Snell Jr., an 18-year-old black man, by police officers on Saturday.
The LAPD says the incident began when officers attempted to stop a vehicle with paper license plates on Saturday afternoon, believing it to be stolen. The vehicle did not stop and instead led police on a chase. When the car did stop, the vehicle's driver and a passenger tried to escape in two different directions on foot. An officer chased the driver into the backyard of a home two blocks from the car and opened fire, killing the driver.
It has emerged that Snell's family lived in the home in front of the house where the shooting occurred. ABC News is reporting that six bullet holes were visible in the gate to the home's garden.
The details of the altercation are fuzzy, but police say they recovered a handgun at the scene. It is unclear what became of the other man.
Speaking to reporters, Snell's distressed mother claimed that police shot her son five times and that she has not been allowed to see his body.
Protestors gathered at the scene in the immediate aftermath of the shooting. Police responded wearing riot gear, but removed it when it became clear that the small protest was entirely peaceful — although someone at a separate protest reportedly threw eggs at the mayor's house.
Activists on Sunday called for police to release the name of the shooter. They have so far refused, citing the ongoing internal investigation.
Snell's death marks the third time a black man has been killed by police in Southern California in the last five days.