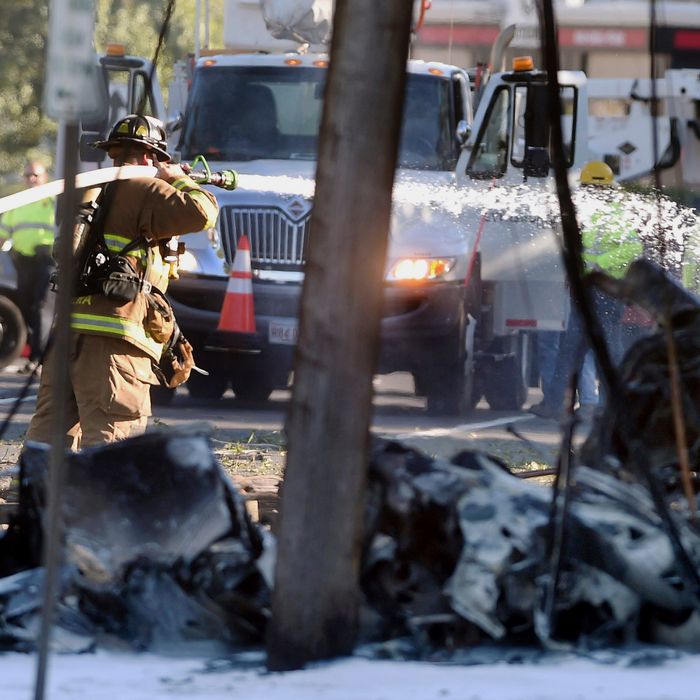 Firefighters use foam to extinguish the fire of a demolished aircraft after the plane crashed on Main Street in East Hartford Connecticut, Tuesday, October 11, 2016.
Photo: JIM MICHAUD/AP
A fiery plane crash Tuesday afternoon in East Hartford, Connecticut, may have been intentional, sources told the New York Times. Two people were aboard when the plane struck a telephone pole, killing one passenger. The pilot survived with burn wounds but has allegedly indicated to authorities that the crash was not an accident. The pilot is in the hospital and is said to be cooperating with investigators.

The FBI is now investigating, along with officials from the FAA and the National Transportation Safety Board. The killed passenger has been named as 28-year-old flight student Feras M. Freitekh. Freitekh is a Jordanian national who entered the United States on a temporary visa to attend flight school in 2012, reports CBS News. He received his license to fly a single-engine plane in May 2015.
The charred plane wreckage is not far from the Pratt & Whitney headquarters, an aerospace manufacturer that supplies parts of civilian and military aircraft. According to the Hartford Courant, local officials called in the FBI because they consider the company "critical infrastructure."
Investigators reportedly raided a Hartford apartment in the early morning hours Wednesday, but officials have not confirmed that the operation was tied to the crash.
The plane reportedly took off from a flight school at the Hartford-Brainard Airport and was on its way back when it crashed and erupted into flames. "I hear planes every day," Jonathan Rucker, a witness, told the Courant. "I heard a plane, then I didn't hear anything. I looked up and the plane was just tipping over. It tipped to the left and dropped straight down. There was a loud bang, smoke and flame. It tipped to the left and just dropped like a rock."
Two other people in a minivan sustained minor injuries when the plane went down, but it doesn't appear that the plane struck the vehicle directly.