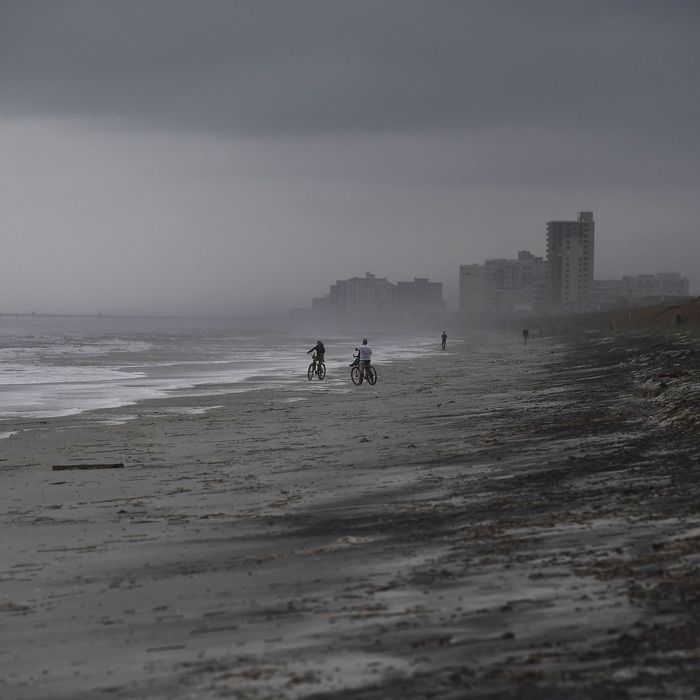 People bike on the beach ahead of Hurricane Matthew in Atlantic Beach, Florida, on October 5, 2016.
Photo: JEWEL SAMAD/AFP/Getty Images
Hurricane Matthew weakened as it approached Florida's shore early on Friday morning, but officials say it remains "extremely dangerous." The storm was downgraded to a Category 3 storm at 2 a.m., with maximum winds at 120 mph. At 5 a.m., the hurricane was moving parallel to the Florida coast at about 13 miles per hour, with the western edge of the eye wall about 40 miles off the coast of Cape Canaveral, according to the National Hurricane Center.
"Extremely dangerous and life-threatening wind is possible," the National Weather Service warned. "Failure to adequately shelter may result in serious injury, loss of life or immense human suffering."
The storm system, which is the strongest to threaten the United States in a decade, is expected to remain a Category 3 as it batters Florida. The hurricane shifted slightly to the east overnight, which may mean it won't actually make landfall. WOFL-Fox 35 meteorologist Jayme King told the Orlando Sentinel that would spare Central Florida from some of the worst predictions.
"It's really a different ball game now," he said. "This storm was going to be unlike anything these communities had ever seen. It's still a dangerous and powerful storm, but the outlook has improved significantly."
More than 2.5 million people are under evacuation orders along the coasts in Florida, Georgia, and South Carolina. People spent the past few days boarding up homes, packing up cars, and abandoning the coastline to head inland and flee this "potentially catastrophic storm."
"This storm will kill you," Florida Governor Rick Scott said Thursday morning at a press conference about Hurricane Matthew. "Time is running out." Scott has declared a state of emergency and is activating at least 3,500 National Guard troops to help with the evacuations of 1.5 million in Florida alone. More than 70 shelters are now open. "Evacuate, evacuate, evacuate," Scott urged. "Be prepared. Don't take a chance."
President Barack Obama also declared a federal state of emergency in 28 Florida counties in the storm's potential path. This frees up federal aid for disaster relief and cleanup.
Matthew pummeled the Bahamas, including Nassau, the capital, on Thursday. The storm unleashed 10-to-15-foot storm surges, causing widespread floods. More than 110-mile-per-hour winds and nearly a foot of rain were "relentlessly pounding" the islands, said the National Hurricane Center.
While agencies have released different numbers, Reuters reports at least 339 deaths in Haiti alone, where the storm caused the worst natural disaster since the earthquake in 2010. At least 28,000 homes have been destroyed in Haiti, and officials are only beginning to take stock of the damage. The death toll is expected to rise. "The situation is catastrophic," President Jocelerme Privert said. "The situation is critical." The country's already long-delayed presidential elections, originally set for Sunday, have been postponed.
We should know in the next few hours if Matthew will skirt Florida's coast or make landfall. If there is a direct hit, Matthew will be the first October hurricane to land on Florida's east coast since Hurricane King in 1950. Even if Matthew stays offshore, Florida won't be spared. Officials are anticipating the possibility of "massive destruction." Winds could whip at 140 miles per hour, and there's a potential that wind gusts could hit Category 5 strength — 157 miles per hour or higher. Residents are also under an isolated tornado threat. Torrential rains and storm surge put low-lying areas at risk of flash and coastal flooding.
Early on Friday morning, more than 240,000 Floridians were without power, according to the Associated Press.

Floridians were apparently heeding the forecasts and the governor's warnings on Thursday, with some exceptions — including, apparently, Vanilla Ice — of those willing to risk riding it out. Otherwise, people were patching windows with plywood and piling sandbags in front of doors and praying that their home would be there when they return.
Fort Lauderdale–Hollywood International Airport shut down. Miami International Airport said they're "open" — but all flights are grounded. Disney World, in Orlando, is shutting down for the first time since Hurricane Jeanne in 2004, the fourth time in its history that the park has closed. The Kennedy Space Center — on Cape Canaveral, right in the bull's eye of the hurricane — has evacuated, except for a small hurricane ride-out team to keep the facility secure.
Early on Friday morning, the National Hurricane Center forecasted that the center of Matthew would move near or over the east coast of the Florida peninsula through Friday night, and near or over the coasts of Georgia and South Carolina on Saturday, still packing powerful winds and heavy rains. Georgia and both North and South Carolina have also declared states of emergency. South Carolina governor Nikki Haley ordered mandatory evacuations on Wednesday, including in the state's second-largest city of Charleston. Eastbound lanes on the major highway I-26 were reversed so thousands of people could get out before the storm arrived.
Over the weekend, Matthew will start to make a right turn back out to the Atlantic Ocean. The storm will spare most of the rest of the East Coast; however, there's now a potential for Matthew to do a rare and wacky loop — essentially rotating in the ocean and coming back toward Florida to possibly deliver a second blow as a tropical storm early next week.
This post has been updated throughout.