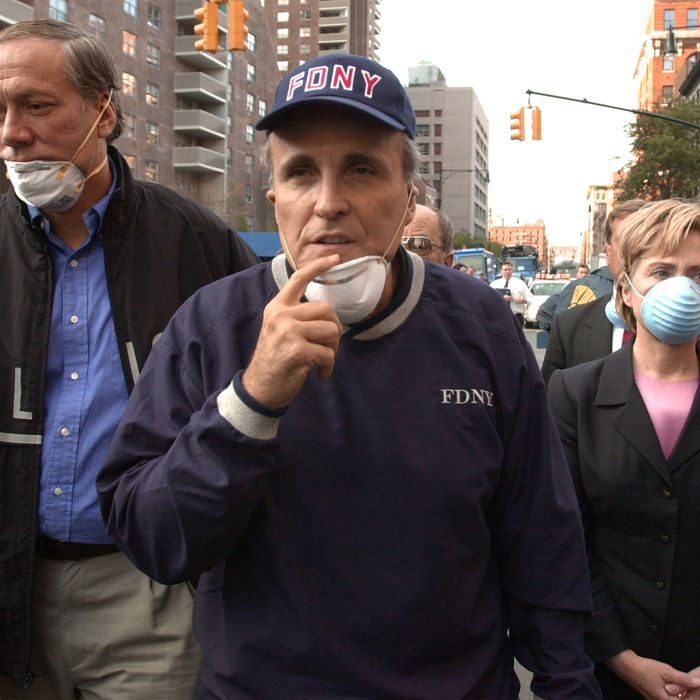 Right behind you, Rudy.
Photo: Robert F. Bukaty/AFP/Getty Images
Speaking at a Trump rally on Wednesday in Ocala, Florida, Rudy Giuliani told a room full of Trump supporters that Hillary Clinton was lying when she said she visited ground zero following the 9/11 attacks.
Don't tell me if you said that you remember September 11, 2001, I remember September 11, 2001. Yes, yes, you helped to get benefits for the people who were injured that day. But I heard her say that she was there that day. I was there that day, I don't remember seeing Hillary Clinton there. That was like when she said she had to run through gunfire. That turned out to be, what do we call it? A lie.
Unfortunately, Giuliani forgot about the internet, and it didn't take long for pictures to emerge of Hillary visiting ground zero the day after the attacks walking right next to — you guessed it — Rudy Giuliani.
After the image went viral, and just a few hours after making the original accusation, Giuliani walked back his claims and apologized, saying, "I made a mistake. I'm wrong and I apologize."
Technically, Clinton wasn't present in New York on September 11 — though she never claimed to be. She represented New York as a senator on 9/11 and was in Washington, D.C. when the attacks took place; she returned to New York and toured ground zero with Giuliani the next day.