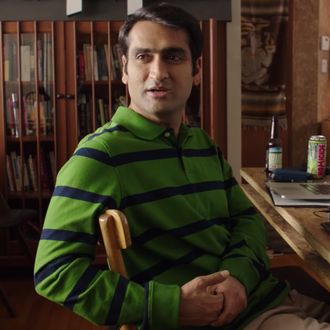 Today is the day: Google's device-release event is finally here. To kick off the announcements, Google opened with a short clip from some of the cast of HBO's Silicon Valley. Featuring Martin Starr as Gilfoyle and Kumail Nanjiani as Dinesh, the clip begins with Dinesh sitting at his computer, awaiting the keynote. (Same, Dinesh. Same.)
Gilfoyle announces he isn't going to watch the keynote because he was chosen to be part of a beta test and already knows what the company is going to release today. Dinesh, panicked, asks why he wasn't chosen to participate. Gilfoyle responds that he is a "qualified industry professional" while Dinesh is just "a virgin." Gilfoyle then picks up a box, pulls out what appears to be the new Google phone (shock!), and heads toward the door for the Google after-party.
"I heard Larry is going to fire Sergei … out of a cannon." Groan.