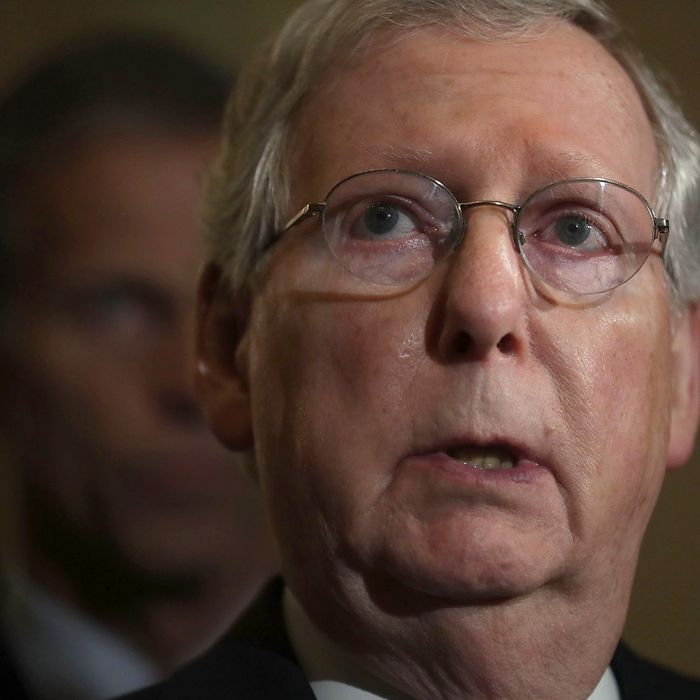 Mitch getting nervous.
Photo: Alex Wong/Getty Images
As the Republicans' hope for preserving their Senate majority dwindles, the GOP has announced a last-minute effort to turn the tide: a massive $25-million investment in six of the Senate's closest races.
The money will come from the influential Senate Leadership Fund, a super-pac closely associated with Mitch McConnell, and one part of the American Crossroads powerhouse-fundraising suite. The super-pac will funnel its donation into increasingly close races in Indiana, Missouri, Nevada, New Hampshire, North Carolina, and Pennsylvania. The group's biggest payout — about $7.5 million — will go to Nevada, where incumbent Joe Heck slipped in the polls after announcing that he would not support Donald Trump. Heck's new strategy of not saying whether he will vote for Trump does not seem to be doing him any favors.
In the Republican camp, the panic is palpable as the party's largest fundraisers scramble to blunt the Democrats' advantage.
"Over the last two weeks, we've seen every liberal Democratic group descend on these races," Senate Leadership Fund president Steven Law told Politico. "Democrats feel like the presidential race is in the bag for them and are looking for fresh game in the Senate."
Even with the new $25 million infusion, Republicans trail behind Democrats when it comes to fundraising and operatives have not ruled out further investment in Senate races as the election gets closer.
Law was careful to temper his optimism, though he did say he thinks Republicans "will hold the majority."
The group's biggest donors understand that "we're going to take casualties," said Law, "but that we're going to go out guns blazing."
One Senate race that was expected to be the recipient of a funding windfall but that now won't see any of the super-pac's largess is Ohio, where Republican incumbent Rob Portman has already managed to pull confidently ahead of the Democratic ex-governor Ted Strickland.