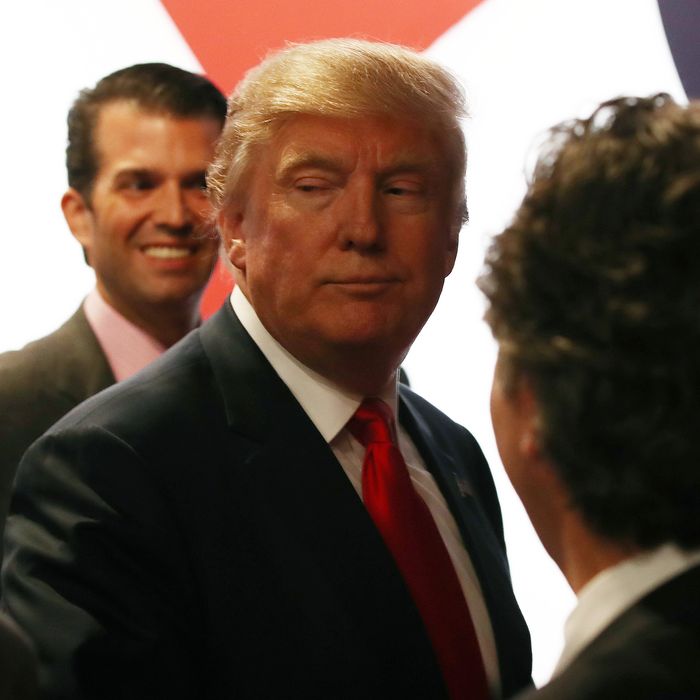 Even his surrogates are conspiring against him.
Photo: Win McNamee/Getty Images
After forcing Republicans to spend the last two weeks discussing whether they'd vote for a sexual predator, Donald Trump found a way to make the next 19 days even more nightmarish for his party. Immediately after the debate, Republicans were already being asked whether they intend to uphold our democratic process or potentially foment insurrection along with their nominee.
As the candidate spouted conspiracy theories about election "rigging" ahead of the third debate, his staffers remained in favor of respecting our democratic traditions. Campaign spokesperson Jason Miller said that "Short of rampant, widespread voter fraud, of course, if the other candidate wins, we'll uphold that." Ivanka Trump assured voters that "my father will always do the right thing," adding, "He'll either win or he won't win, and I believe he'll accept the outcome either way." Minutes before the debate began, Trump's running mate Mike Pence said, "We'll certainly accept the outcome of this election."

Then, when asked during the debate if he'll accept the results of the election, Trump declared: "What I'm saying is that I will tell you at the time. I'll keep you in suspense. Okay?"
Suddenly, Pence wasn't so certain after all. Speaking to MSNBC's Hallie Jackson in the spin room, he added some qualifications. "He said 'I will look it at the time,'" Pence said. "I think he has made a point that he's resonating with millions of Americans that quite frankly with all due respect, the media coverage in this presidential campaign is so one-sided."
Pence suggested he's sticking with his running mate's "wait and see approach," adding: "I have no doubt in my mind in the 20 days that remain in this campaign, we'll continue to call for more balanced coverage of this effort, and we are going to continue to call people all across the country to respectfully participate in the electoral process to ensure that we can be confident in the vote. If the vote is fair, I am confident that he will accept it."
In an interview with CBS News, Pence reiterated that Trump "has every right, he has the prerogative, to wait and see how the election turns out. Sometimes extraordinary circumstances develop."
CNN's Dana Bash had a hard time getting a clear answer out of Trump campaign manager Kellyanne Conway after the debate. Initially she said Trump "will accept the results of the election because he's going to win the election." But when pressed on whether she will encourage Trump to concede if he's "waffling" on Election Night, Conway said, "Absent evidence of widespread abuse and irregularities, yes."
Conway referenced Al Gore challenging the Florida election results in 2000, and other Trump supporters suggested the candidate was merely referring to raising a legal challenge if the results are unclear (though, he's repeatedly suggested, with no evidence, that there will be widespread voter fraud, and that the Clinton campaign is colluding with the media and shady international elites).
"I think it's unlikely that we'll have the kind of serious fraud in this election that would result in an Al Gore challenge to the election like we had in 2000," said Senator Jeff Sessions. "If there's no real basis to file a serious challenge, then I would not support that, and I don't think he would either."
Dr. Ben Carson was similarly confident that "if there is nothing that looks particularly obvious, he is going to accept it."
If Trump does refuse to concede for unfounded reasons, the Republican Party will not stand by him. Or at least, that's what Republican National Committee communications director Sean Spicer suggested after the debate. "If he wins the election, which we think he will, then this won't be an issue, but regardless, ya know, we're going to accept the results and the will of the people," Spicer said, adding that Trump will "accept the results of the election 100 percent."
Plenty of Republican commentators found themselves agreeing with Hillary Clinton's response to Trump's comment: "That's horrifying."
Conservative radio host Hugh Hewitt said Trump essentially "knocked himself out." "It is outside the norm of American political rhetoric to express a contingent acceptance of the result," he added.
On Fox News, Brit Hume agreed that Trump had his strongest debate performance yet, but ruined it by refusing to say he would honor the election results. "That doesn't happen in America," Hume said. "It's newsworthy, it's controversial, it is a big deal, and so the question is that something that will help him? I doubt it." During another Fox panel, Charles Krauthammer said "This is political suicide."
Republican strategist and NBC News political analyst Nicolle Wallace called Trump's remark a "disqualifying statement."
As staffers tried to soften Trump remarks and fellow Republicans rejected them completely, there was one person in the spin room who enthusiastically embraced his dangerous rhetoric. "I am so glad that Donald Trump is sayin' of course we're gonna accept a legitimate election," Sarah Palin told the Daily Beast.
"If we're not gonna be able to trust that the election is fair and, um, that people's most sacred right to vote is respected, then that will tear at the fabric of our nation," she added. "So I am so thankful that Trump understands that. He doesn't, like, belittle the idea or dismiss the idea of anything perhaps being skewed. It's unfortunate that Hillary is so naive as to think that absolutely nothing could go wrong in an election. She needs to wake up and smell the roses and understand what's going on."