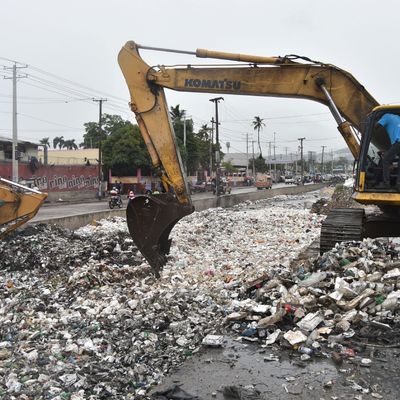 A backhoe loader removes garbage to clean the canal of Portail Leogane in the Haitian capital of Port-au-Prince, on October 3, 2016.
Photo: Hector Retamal/AFP/Getty Images
Hurricane Matthew remains a perilous category-four storm, spinning about 200 miles south of Jamaica with sustained winds of 140 miles per hour, with even stronger gusts. The tropical cyclone is barreling straight toward Haiti, eastern Cuba, and the southeastern islands of the Bahamas. The fierce hurricane should hit southwestern Haiti late Monday, bringing "life-threatening" rain, wind, and storm surge to portions of that country, says the National Hurricane Center.
Haiti and the rest of the Caribbean is battening down for what could be a seriously destructive storm. Between 15 and 25 inches of rain could smother southern Haiti and the southwestern Dominican Republican, with isolated areas getting drenched with up to 40 inches of rain. The northern part of Haiti, eastern Cuba, Jamaica, and parts of the Bahamas could also see rainfall totals in the double digits.
The torrential rains will put the countries in Matthew's path at risk of dangerous flash floods and mudslides. Storm surge will add to the potential for a deluge at the shores, with water levels rising up to ten feet on the southern coasts of Haiti and Cuba. Central and southeastern Bahamas could see storm surges up to 15 feet, per the National Hurricane Center. Dangerous surf and rip currents have already killed two fisherman in the waters off Haiti.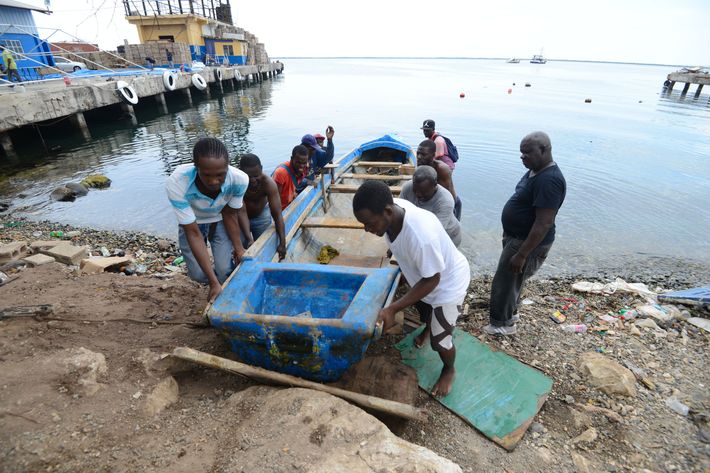 Right now, Hurricane Matthew is moving at a pretty slow speed of six miles per hour, and because of that, it likely won't leave the area quickly, pounding these island nations until possibly Wednesday. Add to that poor infrastructure in many of these island states — particularly Haiti, which is supposed to hold its presidential elections on Sunday — and Matthew's aftermath could be catastrophic.
Hurricane Matthew will remain a fierce storm through Wednesday. After that, its future course is pretty uncertain — especially its potential impact on the United States. Based on the current models, a direct hit is still possible anywhere between Florida and Maine. Models are beginning to show the storm trending slightly west and avoiding Florida, but that means the Atlantic shoreline — particularly the Carolinas — could be at risk, even if Matthew skims the coast.
Yet, there's still way too much uncertainty to make a more precise forecast, and if it does head toward the New York area, the slow-moving storm likely won't get close until this weekend.