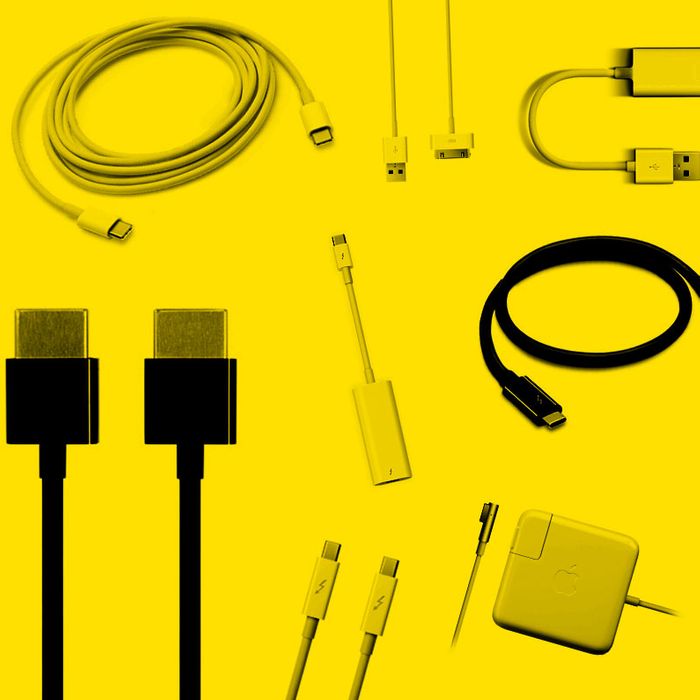 New MacBook Pros! Exciting stuff. A new piece of gear, new things to learn, new features to enjoy. (Can't wait to spin dope beats with the Touch Bar!)
But before you get started, you'll probably need a dongle or two. Maybe more. A whole dangle of dongles. That's because the new MacBook Pro has four Thunderbolt 3/USB-C ports, one 3.5-mm headphone jack (kinda a cowardly move?), and nothing else. So after you lay out at least $1,499 for that new MacBook Pro, here're all the dongles you'll need:
First off, you'll want to get your iPhone connected to your MacBook Pro. So that'll be a USB-C to Lightning Cable for $25. Easy!
Next up, you may have shelled out for a nice set of Lightning headphones. And you want to be courageous and not use that 3.5-mm headphone jack, right? Plus maybe you'd like to hook your MBP up to another monitor or play some video to a TV at some point? And you maybe have a USB 2.0 device or two you need to hook up to your computer? Not to worry! You can do all of that with the USB-C Digital AV Multiport Adapter, just $69. Now we're really cooking.
When you're out with your friends, whether its climbing Yosemite's peaks or just grabbing a fun bite of sushi, you're probably taking great photography all the time, right? So you'll want to get an SD card reader so you can offload all those photos. Heyo, you're in luck: there's a SanDisk Extreme Pro SD UHS-II Card USB-C Reader for just $49.95.
You'll also probably want to maybe sometimes charge your computer while you're sitting far away from a wall outlet — it's not always easy to find a charging spot at Starbucks, amirite? So you'll want to grab an extension cord (they don't come standard anymore with the MacBook Pro, another courageous decision out of Cupertino). Luckily, you can grab one for $19.
Sometimes you may find yourself in a jam without good Wi-Fi and you'll need to hardwire in through ethernet. Also easy: Just pull out your Belkin USB-C to Gigabit Ethernet Adapter, just $34.95.
But wait, you may start to be running out of room for all your dongles. So, lastly, you'll want to get a good ol' Belkin USB-C 4-Port Mini Hub, just $49.99.
And [puts on green visors, hits numbers on a calculator] you're good to go for just $252.89, plus tax and shipping. You may also want to head to the Container Store to figure out some storage solutions for all those dongles.
Of course, we kid — you could easily avoid buying about half this kit and be fine, as long as you snagged something like the USB-C Digital AV Multiport Adapter to let you plug in USB 2.0 connections and your iPhone. And I'm guessing Apple is about to spur a lot of manufacturers to adopt USB-C a lot faster than they would have otherwise, which will help the entire market. Meanwhile, enjoy that new MacBook Pro!