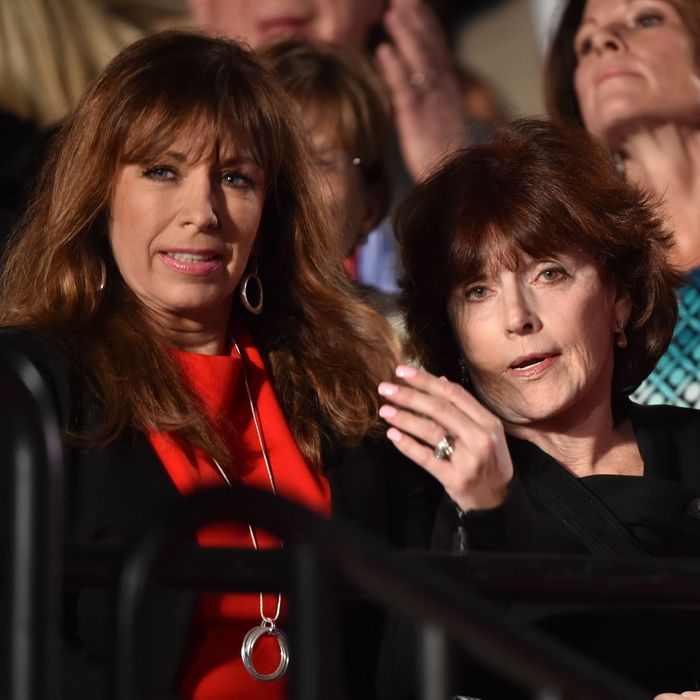 Paula Jones (left), Kathleen Willey (center), and Juanita Broaddrick (right) seated for the second presidential debate.
Photo: PAUL J. RICHARDS/AFP/Getty Images
Donald Trump's decision to attack Hillary Clinton on the broader matter of her husband's alleged sex crimes may be a sign that Trump is losing, but for informal Trump adviser Roger Stone, it's a victory.
For much of the past year, the notorious political operative and self-proclaimed dirty trickster has been one of the most consistent and persistent voices in Trumpworld advocating for Trump to make Bill Clinton's sexual history an issue in the campaign. In his 2016 book, The Clintons' War on Women, Stone alleged that Hillary Clinton intimidated women who had accused Bill Clinton of unwanted sexual advances (the book also alleges the Clintons may have "plausibly" murdered 40 people). Earlier this month, the New York Times reported that Hillary "embraced the Clinton campaign's aggressive strategy of counterattack: Women who claimed to have had sexual encounters with Mr. Clinton would become targets of digging and discrediting — tactics that women's rights advocates frequently denounce."
Until last weekend, Stone had limited success convincing Trump to attack Clinton for her husband's behavior. In January, Trump tweeted, "I hope Bill Clinton starts talking about women's issues so that voters can see what a hypocrite he is and how Hillary abused those women!" For the next nine months, Trump mostly stayed away from the issue, which Stone attributes to Trump thinking it was a matter of infidelity. But after the hot-mic video leaked on Friday of Trump describing to Billy Bush actions that sound like sexual assault, Trump decided to go there. "When the Billy Bush thing hit, Trump needed a tougher strategy," Stone said.
The spectacle of the last several days — lowlighted by Trump's pre-debate press conference featuring women who accused Hillary Clinton of covering up Bill's unwanted sexual advances — was the product of multiple authors: Right-wing journalist-provocateur Charles Johnson, as well as Trump campaign CEO Steve Bannon and Trump son-in-law Jared Kushner, all worked to place Clinton's accusers center stage in the campaign. But Stone says his earlier advocacy put the pieces in place for it to happen. "I forced Trump into my narrative," Stone said.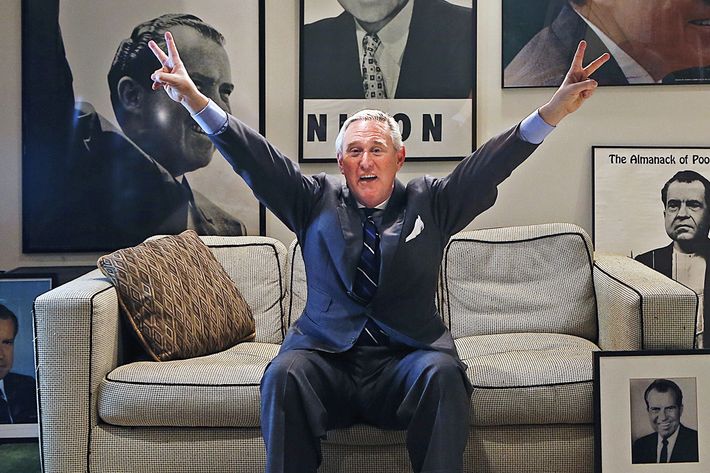 Stone's effort to recruit Bill Clinton's accusers to the Trump cause began last spring, when World Net Daily writer Jerome Corsi introduced Stone to a 38-year-old Vancouver, Washington–based lawyer named Candice Jackson, who authored the 2005 book Their Lives: The Women Targeted by the Clinton Machine. Jackson had remained close with the women she interviewed for her book — Juanita Broaddrick, Paula Jones, and Gennifer Flowers, among others — and Stone wanted to hire her to help Trump's campaign. "She said, 'I would love to work with you, but since you're a conservative, you should know I'm a lesbian,'" Stone recalled her saying. "I said, 'Are you kidding? Do you think that'd bother me? I'm the world's biggest libertine!'" Jackson signed on.
Stone says he paid Jackson about $7,000 to travel to Arkansas last summer to produce a video interview with Kathy Shelton, a woman who accused Hillary Clinton of defending the man who raped her in 1975 when she was 12 (an Arkansas judge had assigned Clinton to be his public defender). Jackson also became Shelton's lawyer. A PAC founded by Stone paid Shelton $2,500 for the interviews. "I talked with Roger all summer about this project," Jackson told me. "We strategized about how we could strategically bring their message out."
Trump and the campaign's current leadership weren't ready to go there, though. For one thing, according to Stone, Trump's daughter Ivanka wasn't onboard. Other advisers wanted Trump to focus on his core issues of trade and immigration. Stone said he made the case to Trump and Bannon that the issue was one of sexual assault, not infidelity.
Stone says that both Ivanka and Trump campaign manager Kellyanne Conway resisted the idea. "Kellyanne hates my guts. And I hate her," Stone told me. Conway strenuously denied being against raising the women issue. "It's a sexist remark," she told me. "I have been attacking the Clintons for 20 years. The idea that I wouldn't tell a presidential candidate to shame and blame this woman — and say, 'Yeah, let's talk about jobs' — is complete bullshit."
Following his widely panned first debate performance against Clinton on September 26 — in which he alluded to the accusations against Bill Clinton but then credited himself for not discussing them — Trump called Stone for advice. Stone responded by sending Trump and Bannon a memo. "The issue of Bill Clinton and women is NOT about marital infidelity , adultery or 'indiscretions.' The issue is sexual assault, rape and violence against women … Hillary ran the campaign to bully, attack, shame and intimidate Bill's victims into silence," Stone wrote. "Broaddrick, Willey, Jones, Kyle and Shelton are all available to attend the next debate or to do a joint press event. Their travel would have to be paid for as none are women of means."
The memo got little traction. So Stone asked Jackson to contact Conway last Thursday without mentioning their connection. "She's known as a cutout," Stone told me, referring to the espionage term about a mutually trusted party serving as a go-between among opposing agents. Jackson had already been planning to be in St. Louis for the debate. She told me Charles Johnson's crowdfunding website WeSearchr had raised thousands of dollars to send her and Shelton.
After the Access Hollywood tape leaked on Friday afternoon, Trump and his team finally came around to the strategy. Trump had Stone's attack lines ready. "Bill Clinton has actually abused women, and Hillary has bullied, attacked, shamed, and intimidated his victims," Trump said in a video apology that night. "We will discuss this more in the coming days."
On Saturday morning, Conway called Jackson and asked her if she could get the women to the debate in St. Louis. Jackson contacted Shelton and put out calls to Broaddrick, Jones, and others. "It was a difficult logistical challenge to pull off," Jackson said. The campaign paid to fly the women first-class to St. Louis and put them up in the Four Seasons Hotel, according to Jackson. Trump's bizarre pre-debate press conference was orchestrated by Bannon and Kushner, the Washington Post reported. (Bannon and Kushner even tried to seat them in his family's box next to the Clintons.)
Since then, Trump has kept up the attacks. "Bill Clinton sexually assaulted innocent women, and Hillary Clinton attacked those women viciously," Trump told supporters in Pennsylvania Monday.