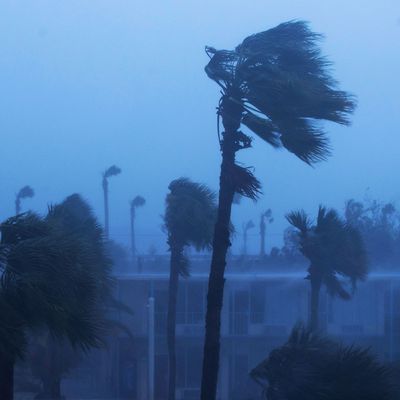 Palm trees twist in the rain and wind from Hurricane Matthew, October 7, 2016, in Ormond Beach, Florida.
Photo: Drew Angerer/Getty Images
Hurricane Matthew was downgraded to a Category 2 storm Friday evening. As of 11 p.m., the storm spun about 155 miles southeast of Savannah, Georgia, and was inching away from northern Florida at about 12 miles per hour. The storm remains powerful, unleashing maximum sustained winds of 105 miles per hour and threatening the eastern U.S. shoreline with storm surges up to 11 feet.
That incredible storm surge has the potential to generate "life-threatening inundation" and untold damage along the shoreline in northern Florida, and parts of Georgia and South Carolina. Jacksonville, the largest city in Matthew's northward Florida march, braced for "dangerous" floods from rising flood waters. "We've seen nothing like this before," Jacksonville mayor Lenny Curry told CNN before Matthew arrived. "This is a deadly, life-threatening event that is approaching our city."
Jacksonville, and coastal cities to its south, including St. Augustine and Ormond Beach, reported serious flooding as Matthew churned past. Waves crashed over dunes and flowed onto the streets near the shoreline. Even as coastal waters recede, concerns remain that the overflowing St. Johns river in Jacksonville and saturated ground could lead to more flooding. Wind gusts are still topping 60 miles per hour in the Jacksonville area.
Forecasters had warned that pounding waves and rising tides would overwhelm barrier islands, leaving coastal communities vulnerable to a deluge. "Many buildings washed away or extensively damaged," the National Weather Service forewarned, "damage greatly compounded by considerable battering by floating debris. Locations may be uninhabitable for an extended period."
Officials said that Jacksonville residents wouldn't be able to return to their homes Saturday, as crews need to assess damage and start cleanup. But right now, Jacksonville, and the rest of Florida, appears to have dodged the the most dire of the hurricane predictions. Jacksonville hasn't witnessed a major hurricane since October 2, 1898, and the the National Weather Service in Jacksonville had warned that "if a direct landfall occurs, this will be unlike any hurricane in the modern era." As of Friday night, that record remains intact.
At least four people have died in storm-related incidents in Florida so far. Falling trees killed two people Friday. One woman was crushed in her camper southwest of St. Augustine; another woman died in Volusia County, which includes Daytona Beach, when she went outside in the storm to feed animals. Two others died in St. Lucie County, Florida. A woman, in her 50s, suffered a heart attack, and emergency responders could not reach her as the storm intensified. The other victim was a man in his 80s who had fallen unconscious; ambulances tried to reach him but took too long, and the man had to be driven in a personal car to the hospital, where he later died.
The fatalities served as a reminder of what officials had been warning about in the days and hours ahead of Matthew's arrival. "This storm will kill you," Florida governor Rick Scott said Thursday, urging more than 1.5 million Floridians in the hurricane's projected path to evacuate. Officials did not let up, even as rain and winds began pounding the state. "Evacuate tonight," the National Weather Service demanded, "before its [sic] too late."
Even a weakened Matthew is potentially the strongest hurricane in a decade to wallop the United States. More than 1 million Floridians are currently without power. About 20,000 are bedding down in shelters.
Social media captured glimpses of Matthew's onslaught. Here's a look at some hurricane scenes, moving from south to north along the track of the storm.
Cape Canaveral:
Daytona Beach:
Ormond Beach:
St. Augustine:
In St. Augustine, a group of people were apparently trapped in a local bed and breakfast. News crews eventually had to evacuate the area themselves:
A scene from Flagler College:
Even the wildlife battened down:
Jacksonville:
On Friday morning, the eye of the Category 3 storm, which had weakened from a Category 4 overnight, grazed the edge of Cape Canaveral, Florida, but the eyewall's center avoided land, technically keeping the hurricane offshore for now. "Any sort of shift to the left would bring the center onto the coast," Jack Bevin, a hurricane center specialist, told the Miami Herald.

The storm remained "extremely dangerous" Friday even without a direct hit. Cape Canaveral registered the strongest wind gusts, which topped off at about 107 miles per hour. Conditions would have been much more dire had Matthew made landfall; even so, strong winds threatened to render structures "uninhabitable for weeks or even months," warned the National Weather Service.
South Florida, including Miami, has been largely spared from Matthew's wrath, after the storm made a last-minute shift north. Most hurricane and tropical-storm warnings have been canceled for the state's southeastern coast.
Matthew is finishing its tear through Florida, and is getting ready to swing over the coasts of Georgia and South Carolina starting late Friday into Saturday, said the National Hurricane Center. As with Florida, those states have declared emergencies and called for evacuations along the Atlantic Coast. President Obama, who declared a federal state of emergency in Florida Thursday, later did the same for Georgia and South Carolina. "I just want to emphasize to everybody that this is still a really dangerous hurricane, that the potential for storm surge, flooding, loss of life and severe property damage continues to exist," Obama said Friday.
Right now, Matthew is expected to produce wind gusts up to 75 miles per hour and could dump up to 14 inches of rain in some locations along the coast in Georgia and the Carolinas. Storm surges in parts of Georgia could reach nine feet and as high as 11 feet in South Carolina. That surge and torrential rains could be a catastrophic combination, inundating some areas with water levels as high as those historic Carolina floods in October of last year.
The Georgia and South Carolina coasts are already beginning to experience tropical-storm-like conditions. Matthew will very closely skate Savannah, Georgia, late Friday into Saturday. A Category 3 hurricane hasn't made landfall in Georgia since 1898, and Matthew is going to come very close to being that once-in-a-century event. Here's a look at Savannah earlier Friday:
And here's Savannah Friday night:
Those living on Tybee Island, off the coast of Savannah, rushed to evacuate Friday as Matthew marched near. "We kind of tried to wait to see if it will tilt more to the east," resident Jeff Dickey told the Associated Press. "But it's go time."
Georgia governor Nathan Deal ordered mandatory evacuations in low-lying coastal areas, which affected about 500,000 people. Thousands have already spent the night in shelters, and more are expected to join them overnight. "Hurricane Matthew is a storm not to be messed with," Savannah mayor Eddie DeLoach said Thursday. "If you decide to ride it out, do not expect us to be there to help you."
South Carolina, which kicked off mandatory evacuations Wednesday, will feel the brunt of Matthew early Saturday morning and most of Saturday. The state is also bracing for a potential direct hit near Charleston if Matthew curves inland, as some forecast models predict it might. That could bring wind gusts topping off at 100 miles per hour to the state's second-largest city.
On Friday, South Carolina governor Nikki Haley urged any stragglers in the evacuation zone to get out immediately. She added, "There is nothing safe about what's getting ready to happen."
Charleston, South Carolina, emptied out Friday night as winds and downpours picked up after nightfall:
Obama also added 66 North Carolina counties to the list of federal disaster zones later Friday. A hurricane warning has been extended up the coast to Surf City, and there is a tropical-storm warning as far as the Outer Banks. The storm, which will likely be a Category 1 hurricane by the time it reaches the state, is expected to make a right turn out into the Atlantic at the edge of North Carolina's eastern shore — near Wilmington — but the southeastern part of the state will get slammed with heavy wind, surf, and rain. "What we feared is now happening in North Carolina," Governor Pat McCrory said Friday. "The immediate concern is now life-threatening rain and water throughout our state. This has the potential for North Carolina to see the worst flooding since Hurricane Floyd in 1999."
The southeastern United States is in the thick of the deadly storm, but Matthew has already carved a fatal path through the Caribbean. The hurricane's death toll in hard-hit Haiti has soared to as many as 842, reports Reuters. More than 61,000 have been left homeless in what the country is calling its worst natural disaster since the 2010 earthquake.
This post has been updated throughout.