A boarded-up IHOP restaurant has messages to Hurricane Matthew written on plywood as it sits closed ahead of Hurricane Matthew on Cocoa Beach, Florida, on October 5, 2016.
Photo: Rhona Wise/AFP/Getty Images
Hurricane Matthew tore through the Caribbean Tuesday. The fierce category 4 storm wove a path of devastation through Haiti, Cuba, and its neighbors. Torrential rains, turbulent surf, and winds blasting 140 miles per hour flooded out roads and washed away bridges, ripped off roofs and dismantled homes. At least 11 people have died.
Matthew is now slashing through the Bahamas and will twist northwest, heading toward the southeastern United States. Florida, Georgia, and the Carolinas are all in Matthew's potential path. Each is bracing for what could be a "catastrophic" collision.
The National Hurricane Center downgraded Matthew a notch to a category 3 storm Wednesday morning. It is still powerful and deadly, packing winds of 120 miles per hour. Over the next 48 hours it will make its way toward Florida, cruising over very, very warm water. It's "in the middle of prime conditions for strengthening," explains New York Metro Weather's John Homenuk. Matthew will likely bounce back up to a category 4 storm, regaining those ferocious 145-mile-per-hour or greater winds as it inches closer toward the United States.
Governors in all four states in the storm's projected route have declared states of emergency. Florida will get a small Matthew preview Thursday as tropical-storm-like conditions precede the storm's arrival sometime Friday. "If Matthew directly impacts Florida, there will be massive destruction that we haven't seen in years," Florida governor Rick Scott said. "This is a deadly storm approaching our state."
Whether Matthew will hit Florida head-on is still uncertain. The latest forecasts predict the hurricane will skirt along the state's eastern coastline. But Matthew — which has spent the longest period of any eastern Caribbean hurricane at category 4 status — doesn't have to make landfall to destroy with torrential rains, storm surge, and winds.
Florida has mobilized 200 National Guard troops. About 6,000 more are on standby. Classes are canceled up and down the state's east coast. Officials have called for evacuations in parts of central Florida, for those living on barrier islands, flood-prone areas, or in mobile or manufactured homes, reports CBS News. More evacuations may be on the way. "If you're able to go early, leave now," Scott said.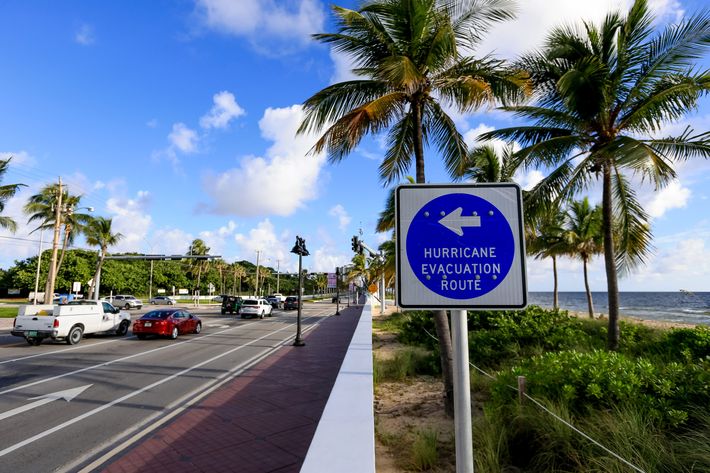 Georgia and the Carolinas are also preparing for a deadly hit from Matthew. The storm's future track — and strength — will depend on how the hurricane interacts with Florida. But right now the system is expected to skate up the Atlantic coasts of Georgia and South Carolina, and it may start to move away from the shoreline near North Carolina.
South Carolina governor Nikki Haley issued a mandatory evacuation order for more than 1 million people in the state's low-lying coastal areas starting at 3 p.m. Wednesday — including the major city of Charleston. "We don't do voluntary or mandatory anymore," Haley said. "An evacuation is an evacuation."
North Carolina officials have also issued mandatory evacuations in some areas, including the Outer Banks.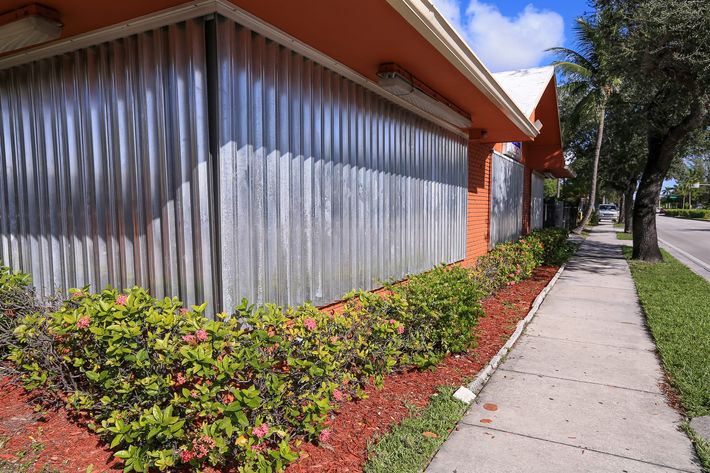 These precautions have turned the southeastern coast into a scene of boarded-up homes.
Residents rushed to stock up on supplies.
Grocery stores looked ghostlike, their shelves cleaned out of water and bread.
Cars creeped along highways, especially in South Carolina, as people fled.
And drivers sat at standstills, in line to fill up their gas tanks.
Those are images that New Yorkers won't have to replicate, and the same goes for other residents along the mid-Atlantic coast. The latest models predict that once Hurricane Matthew skates near the Carolinas this weekend, it will veer east or even southeast. But either way, it's headed back out into the Atlantic Ocean. Which means it's avoiding New York entirely — maybe bringing a little rain, but probably not even that.
Homenuk said some of the earlier predictions that (cautiously) showed Matthew sliding north along most of the eastern coastline saw the storm interacting with another disturbance (a trough, or low-pressure system) over the central United States. Meteorologists saw a potential for a very strong disturbance that would essentially team up with the hurricane. "That scoots Matthew up and wings it along the coast," Homenuk said. But that scenario is now out. Instead, this weaker disturbance is going to slide north — across the Great Lakes and Ohio — and mostly misses interacting with Matthew. "It almost acts as a block to stop Matthew up the coast," Homenuk explains. "It forces the storm to hang around out to sea and hang off the coast to the southeast."
Another way to look at it: That low-pressure system sliding over the northeast causes something of an atmospheric traffic jam, which forces Matthew to take a new route and head out to the open seas.
Which is all to say that, for New York, Matthew is going to be "harmless." "The impact from the storm will be quite minimal," Homenuk adds. "If we notice anything at all."