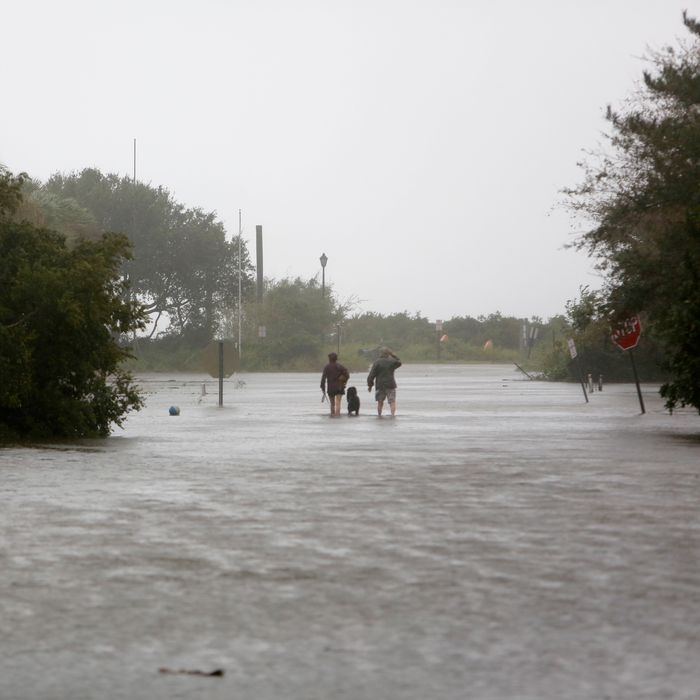 People walk down Station 30 as Hurricane Matthew hits Sullivan's Island, South Carolina on Saturday.
Photo: Mic Smith/AP
Hurricane Matthew was downgraded to a Category 1 storm before making landfall between Charleston and Myrtle Beach, South Carolina, on Saturday morning. The still-massive storm now packs sustained winds of as high as 75 mph, and though the storm's intensity has decreased, it still poses a significant flooding threat considering the inundating rainfall and the storm-surge risk to coastal areas. Indeed, that impact has already been felt up and down the southeastern coast, where storm-surge and rainfall records have already been set, coastal cities and towns have been flooded, more than 1.6 million people are without power, and at least five people have been killed.
In South Carolina, parts of Charleston were flooded by the storm surge, which breached the city's sea wall, and other parts of the Carolinas could see similar devastating floods later Saturday, both on the coast and inland.
Matthew set a storm-surge record in Georgia, where Tybee Island saw a surge of 12.5 feet and the Savannah River overflowed its banks.
Meanwhile, back in Haiti, where the storm struck earlier in the week as a Category 4, a Reuters report has raised the death toll to more than 800, and the impoverished nation is facing an enormous humanitarian crisis.
The Capital Weather Gang reports that the storm may begin to taper off Saturday evening, but the New York Times reports that North Carolina officials are worried that unprepared residents may still be at risk there, as many did not believe the storm would reach them, which it now seems certain to at least partially do.