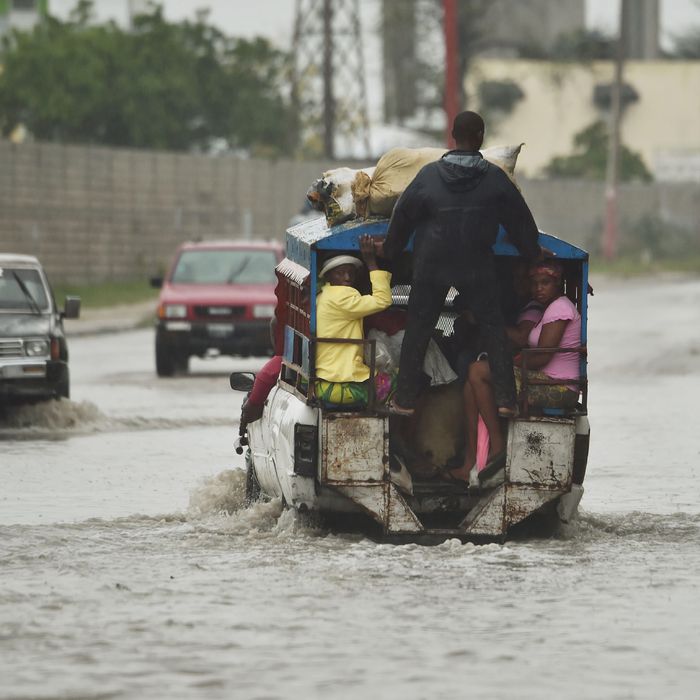 A tap tap (public transportation) crosses the water left by the rain after Hurricane Matthew, in Port-au-Prince, on October 4, 2016.
Photo: Hector Retamal/AFP/Getty Images
Hurricane Matthew touched down in southwestern Haiti around 7 a.m. this morning, pummeling the island with 145-mile-per-hour winds, torrential rains, and turbulent seas. Forecasters predict the Category 4 storm, the strongest to slam Haiti in more than 50 years, could be "catastrophic" for the impoverished nation.
Even before Matthew hit, Haiti felt its "life-threatening" force. Videos and pictures posted on social media capture wailing winds, darkened skies, and deluged roads on an island ill-equipped to deal with a natural disaster.
The predictions for Haiti are dire. Up to 40 inches of rain are expected in some parts, yielding flash floods and mudslides. Storm surges will rise up to ten feet, and shorelines will be under siege from squally, violent surf.
Haiti, still recovering from a devastating 2010 earthquake, lacks the infrastructure to withstand the brunt of the storm. "We're expecting a lot of houses to go down because of the poor housing infrastructure in a lot of the rural areas where we work," John Hasse, an aid worker with World Vision, told USA Today. "With wind this strong, it will be extremely damaging and dangerous and homes for the average person are made of mud and sticks or poorly constructed cinderblocks." Another aid group, Operation Blessing International, warned of a "tsunami of cholera" in the aftermath of the storm.
Hurricane Matthew also threatens Haiti's already shaky political stability. Haiti's presidential elections are scheduled for Sunday, a do-over after Haiti threw out its presidential-election results last year over accusations of fraud, and canceled a runoff in January after violent protests.
Hurricane Matthew is plodding toward eastern Cuba and the Bahamas Tuesday. About 300,000 people in the path of the storm were evacuated in Cuba, and about 700 Navy family members posted at Guantánamo Bay have been flown to Florida. Officials said the buildings at the detainee camp at Guantánamo should be able to withstand the "current projected storm strength," though there's a plan in place to move the 61 remaining prisoners to alternate shelters, if needed.
Matthew also walloped parts of Jamaica, with heavy rains and flooding.
The National Hurricane Center predicts that Matthew will remain a destructive, powerful storm through at least Wednesday night. Right now, the models are trending westward, which means Matthew could get pushed closer to the eastern coast of Florida or the Carolinas, with the potential to make landfall — possibly as a Category 2 storm, with winds at about 105 miles per hour. Florida governor Rick Scott declared a state of emergency, and North Carolina governor Pat McCrory activated a state of emergency in 66 counties near the coast.
Parts of Florida are already under a tropical-storm watch. Matthew could approach the southeastern coast by Thursday and, if current models hold, track up the Atlantic seaboard near the Carolinas at the start of the weekend, then head up to Washington, D.C., and New York City.
And just to keep things interesting, Tropical Storm Nicole has formed in the Atlantic Ocean. But unlike her older sibling Matthew, she poses no threat to land right now.