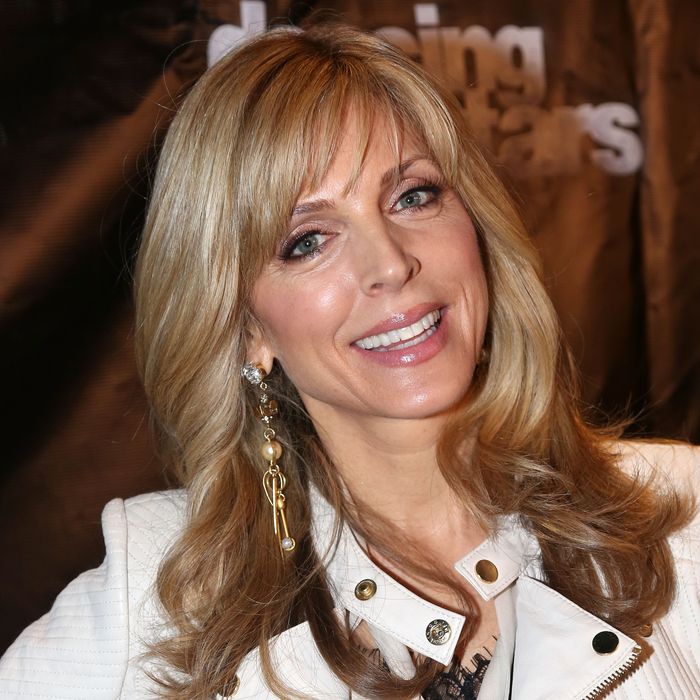 Gracious ex-wife and/or political schemer Marla Maples.
Photo: Bruce Glikas/FilmMagic
The New York Times bombshell report that Donald Trump reported a $916 million loss on his 1995 tax records revealed that the GOP presidential nominee may have paid no federal income tax for 18 years. It also gave birth to a new political parlor game: Who unveiled the documents that months of media badgering and 40 years of precedent failed to produce?
Some were convinced that it was a disgruntled Trump employee, or even a family member:

Others speculated that, despite all evidence to the contrary, Donald Trump is actually a real-life Frank Underwood:

But there's another theory that's more plausible and arguably even juicier: Marla Maples, Trump's ex-wife, is the Times' anonymous source. In a post on Medium, Yashar Ali gathered some of the clues. First and foremost, there is a "Sign-Here" flag on the first page of the New Jersey nonresident tax return, and it points to the spot for Maples's signature.

And as the Daily Beast's Olivia Nuzzi noted, Maples had an interesting Twitter exchange on Sunday. Maples, who's practiced Kabbalah for 20 years, celebrated the arrival of a new season (or her glorious act of revenge) with this tweet:

Politico's Marc Caputo responded with a joke, and @PoliticalBuffs replied to both of them:

It seems the question was directed at Caputo, but Maples answered:

Many assume that the leaker held off sending Trump's tax return so it would act as the proverbial "October surprise" (the Times story was first published on Saturday night, October 1), but could there be more to the timing? Maples was suddenly back in the news last week because her ex-husband decided to remind the public that Bill Clinton cheated on Hillary Clinton — which in turn reminded everyone that Trump cheated on his first wife, Ivana, with Maples.

Maples has not publicly disparaged Trump in recent years, but she came very close in the past week. The native of Georgia, who was raised a strict Baptist, very sweetly threw some shade his way in a Times profile of their 22-year-old daughter, Tiffany, published on Saturday morning. After their divorce, Maples took her daughter to the West Coast, or as she put it, "I had the blessing of raising her pretty much on my own." From Tiffany's remarks about long-distance phone calls with her dad and saving report cards that he scribbled on, it appears that they have not had a very close relationship. Her mom backed up that theory in the Times piece:

"She'd like to get to know her father better and spend time with him like his other children did: by going to his office and watching him work," Ms. Maples said in a recent phone interview. "Only now, he's not in the office anymore. He's on the campaign trail."

In an interview with Nuzzi conducted last week — specifically, September 21, two days before the Times received the tax returns — Maples conveyed, albeit vaguely, that she is not a fan of her ex's unique blend of insult comedy and alt-right conservatism:

"I have always been more liberal," she said, "and I believe in gay and lesbian rights and I believe everyone on this planet has a right to choice. So, I just don't feel it's productive for me to go judging another person's choices. I think it's important for all of us to speak about what is important for us. I think — I even saw them advising Hillary today that she shouldn't go out attacking — like some of the other candidates did — that she should really stick with her own strengths, and I kind of take that to heart.

"There's just issues that I was born caring about that may be a little different than what we're seeing take — how can I say that?"

She paused.

"We're seeing issues come to the forefront, for sure. Um, I just believe we have to have positive dialogue and understanding."
Maples also addressed one of the biggest clues that she might be the leaker: Back in 1999, when Trump was reportedly mulling a presidential run, she told the London Telegraph, "If he is really serious about being president and runs in the general election next year, I will not be silent … I will feel it is my duty as an American citizen to tell the people what he is really like."
When asked about the remark, Maples said she didn't recall saying it and, according to Nuzzi, "suggested the quote had been fabricated." She wouldn't say whether she'd signed a nondisclosure agreement, as is common in Trump's inner circle. As BuzzFeed previously reported, in response to the Telegraph quote, Trump complained that Maples had violated her "confidentiality agreement," attacked her in the press, and withheld her alimony payment, prompting a legal battle.

While a lawyer for Trump threatened the Times with "prompt initiation of appropriate legal action" if it published the tax returns, it would actually be perfectly legal for Maples to release her own tax information. According to Yashar Ali, she wouldn't even be violating the confidentiality agreement, if it exists. "I spoke to two lawyers that specialize in family law and both told me that they have never seen a restriction around tax returns in a prenup or settlement agreement," he writes.

For anyone else, leaking Trump's confidential tax information would be "punishable by a $5,000 fine, up to five years in jail or both," as the Washington Post reported days before the leak. There are tens of thousands of people who have access to a master computer that shows summaries of everyone's tax return, and Trump's could be pulled up in minutes. However, the IRS can track who viewed that information, and they'd be risking felony charges.

There are hints that the leaker is needling Trump personally, not just acting on a belief that the American people deserve to have a complete picture of each candidate's finances. Rather than leaving the return address blank, the anonymous sender used the address of Trump Tower, which might be a message that it was an inside job.

The choice of Times metro reporter Susanne Craig may also be a clue (though it's possible the documents were sent to multiple reporters, and she was the first to check her mailbox). Trump has far more high-profile enemies in the media, but Craig got under his skin with a number of articles that questioned his business acumen. In February, she and David W. Chen wrote a story challenging Trump's claim that he's a power broker in New York. In April, Craig reported that Trump's personal jet, which he uses to make campaign stops, wasn't registered to fly.
A week later, she wrote another piece describing her increasingly contentious dealings with Trump while reporting those stories. First he told her and Chen that they were "very dishonest reporters" via email. Then in a phone call regarding the jet story, he told Craig he was cautioned not to talk to her because she would "write bad," forcing him to "tweet badly about the Times." Sure enough, after publication of that piece, he tweeted that the Times is a "seriously failing paper with readership which is way down. Becoming irrelevant!"
Giving one of Trump's least favorite reporters documents that undermine both his presidential ambitions and the illusion that he's a genius businessman does seem like something a vindictive ex-wife would do. That's how Trump tried to portray Maples in the media back in 1999, telling Fox News's Neil Cavuto, "I've taken good care of her. But she's got a lot of venom and it's too bad. And it's just not becoming of her, but I think she'll probably be more responsible."
But that may actually be the biggest sign that Maples isn't the leaker after all. Throughout the campaign, Maples has made it clear that her focus is on protecting her daughter. She attended the Republican National Convention to support Tiffany, and shared a tweet afterward praising her daughter and former stepchildren.

While anything's possible in this election, it's hard to imagine that the modern-day Deep Throat has a Twitter feed filled with photos of healing crystal jewelry, talk of "connecting souls," and prayer-hands emoji.