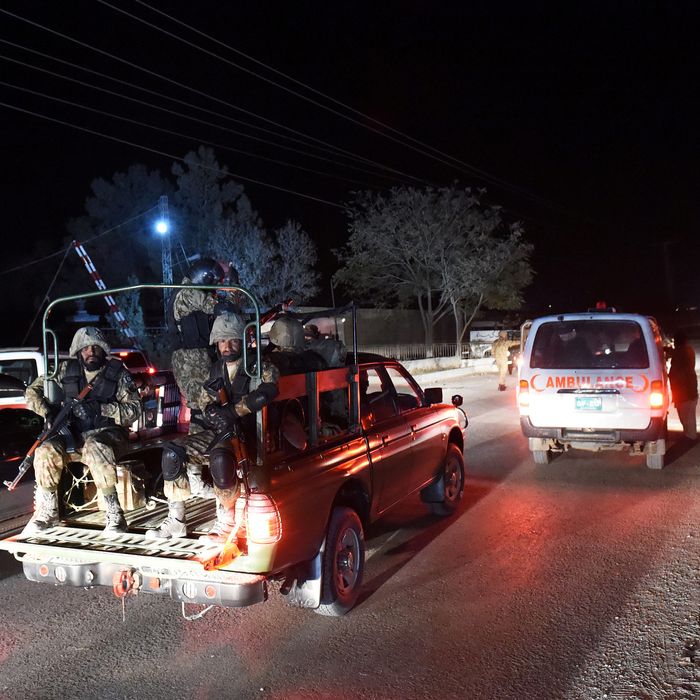 Pakistani army soldiers arrive at the Balochistan Police Training College in Quetta on October 24, 2016, after militants attacked the police academy.
Photo: Banaras Khan/AFP/Getty Images
Three gunmen, armed with assault rifles and explosives, stormed a police cadet training academy in Quetta, in southwest Pakistan, killing at least 61 and injuring more than 115 people. The attack happened overnight, when militants killed two guards and busted into the bunks of the Balochistan Academy, where approximately 700 unarmed cadets were getting ready for bed. "They were carrying Kalashnikovs and firing blindly and throwing hand grenades," a surviving cadet told The Guardian. "No one was there to help us so we fell to the ground and hid beneath our beds."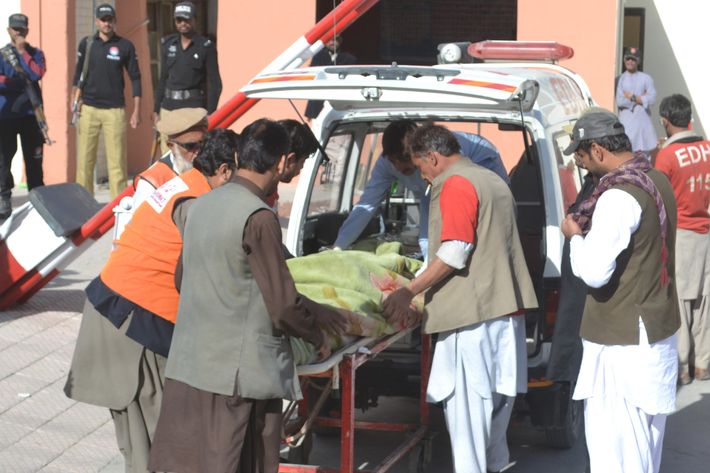 ISIS has taken credit for the attack, posting a picture of the alleged gunmen on Amaq, the extremist group's news wire. Officials have not confirmed those claims and instead initially blamed a Taliban-affiliated group, which is active in the region.
All three of the attackers are dead; two blew themselves up with suicide vests, and the other was shot by security forces, reports the New York Times. Most of the victims of the attack died from the explosions, officials said, and many of the injured were hurt after trying to leap out the windows to escape the attackers.
Quetta was rocked in August by a suicide attack, claimed by ISIS and a Taliban faction, that killed 73 people, mostly lawyers. ISIS has started to carve out support in parts of Afghanistan and Pakistan, though security officials in the region are wary of giving the group too much credit. "ISIS is increasingly on the defensive as it struggles to defend its shrinking caliphate in Iraq and Syria," Michael Kugelman, a think-tank analyst for the Woodrow Wilson Center, told Newsweek in August, "so it has a strong incentive to show it's still relevant by taking credit for something it didn't do."
Iraqi government forces are closing in on Mosul, Iraq's second-largest city and ISIS's last major stronghold in the country. Reports say ISIS fighters are fleeing the city, headed back over the border to Syria, as Kurdish peshmerga and Iraqi troops press forward, day by day, in what will be a long, drawn-out battle to retake the city.