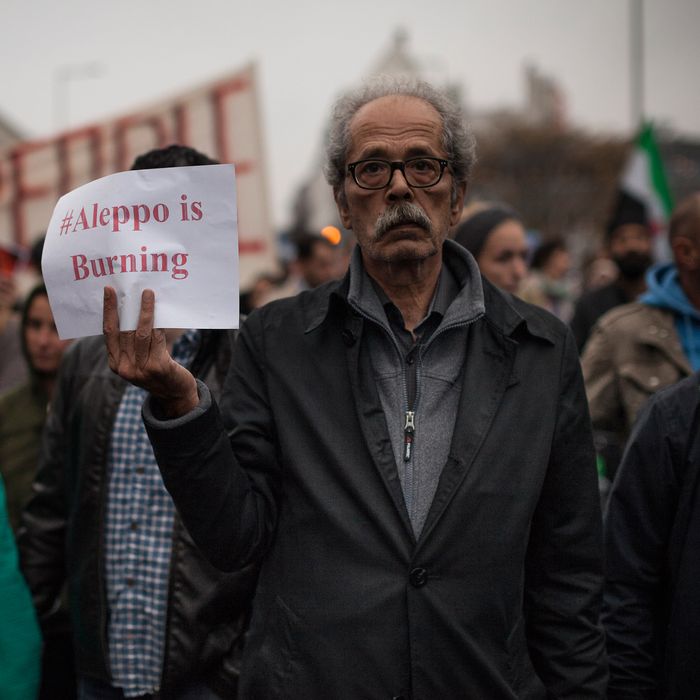 Syrian citizens and Berlin residents take to the streets of the German capital to protest the ongoing attack against East Aleppo on October 1, 2016.
Photo: Janos Chiala/NurPhoto via Getty Images
The United States has backed away from Syria talks with Russia following the Kremlin-backed Bashar al-Assad regime's intense bombing campaign against Aleppo's rebel-held areas.
U.S. Secretary of State John Kerry followed through on threats he made last week to suspend talks after Russia and the Syrian government waged a relentless assault on Aleppo — one of the most aggressive and brutal of the entire five-year civil war — that stomped on an already failed cease-fire agreement. Syrian government troops rained bunker-buster bombs in residential areas, killing dozens. Hundreds of thousands, including at least 100,000 children, remained trapped inside the war zone in Aleppo, with limited access to food, medical care, and other humanitarian aid.
"This is not a decision that was taken lightly," State Department spokesman John Kirby said in a statement. "The United States spared no effort in negotiating and attempting to implement an arrangement with Russia aimed at reducing violence, providing unhindered humanitarian access, and degrading terrorist organizations operating in Syria, including Daesh [ISIS] and al Qaeda in Syria."
In backing away from bilateral talks, the United States will for now scrap plans to share intelligence and cooperate militarily with Russia to defeat the enemies they can agree on: ISIS and the Al Qaeda spinoff, the Al-Nusra Front. (The two countries are still talking through previously established military channels, but mostly to avoid accidental run-ins between Russia and the U.S. in the Syrian skies, says CNN.)
That military cooperation against extremists was one of the terms of the September 12 cease-fire that has now come crashing down. Russia and the United States called for a seven-day cessation of hostilities last month so humanitarian-aid convoys could reach desperate civilians. According to the terms of the agreement, Russia would convince Assad to back way from indiscriminate air strikes against civilians, and the United States would pressure allied rebel forces to sever all ties and stop mingling with extremist groups like Al-Nusra.
Many U.S. officials predicted the deal dead on arrival. There was a brief respite in fighting, but that quickly crumbled. On September 17, the U.S. bombed Syrian government troops at their military base, killing dozens, claiming to have mistaken them for ISIS fighters. A few days later, on September 19, there was a deadly bombing of a United Nations aid convoy, which the U.S. blames on Russia. Since then, the United States says the Kremlin is letting Assad to indiscriminately bomb civilians.
Meanwhile, the Kremlin accuses the United States of failing to convince moderate opposition forces to break with jihadist groups — and for being liars who really support ISIS.
This heightened tension between the United States and Russia doesn't look like it's going to abate anytime soon. As the Washington Post points out, just before the U.S. called off its Syria talks, Russia halted its participation in an agreement with the U.S. to get rid of weapons-grade plutonium unless the Obama administration ends its sanctions against the Kremlin and stops any NATO buildups near Russia. And that's to say nothing of the specter of a Putin plan to hack the presidential U.S. elections.