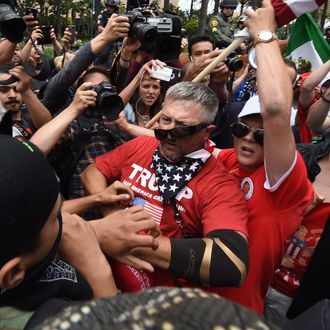 Photo: Mark Ralston/AFP/Getty Images
Two Democratic operatives lost their jobs this week after a series of videos from James O'Keefe's Project Veritas Action seemed to show them talking about stealing votes and inciting violence. On the hidden-camera video, Scott Foval, former national field director for progressive advocacy group Americans United for Change, speaks about planting agitators at Donald Trump rallies to elicit violent responses from his supporters. He also claims in the video to be aligned with Bob Creamer, an employee of political consulting firm Democracy Partners, who announced on Tuesday that he would be "stepping back" from a role at the Democratic National Committee.
"I am unwilling to become a distraction to the important task of electing Hillary Clinton, and defeating Donald Trump in the upcoming election," Creamer told CNN in a statement.
Foval, who has been fired from his job at Americans United for Change, seems to say in the video that he worked with Creamer to make a scene at Trump rallies. "I mean, honestly, it's not hard to get some of these assholes to pop off," he says in the video. "It's a matter of showing up, to want to get into their rally, in a Planned Parenthood T-shirt. Or 'Trump is a Nazi,' you know. You can message to draw them out, and draw them out to punch you."
Creamer said what Foval was describing was "hypothetical" and that it never happened. "While none of the schemes described in the conversations ever took place, these conversations do not at all reflect the values of Democracy Partners," Creamer told CNN.
A second video released on Tuesday appears to show Foval concocting a voter-fraud scheme with an undercover agent from Project Veritas Action. Or maybe they're just bullshitting in a bar. It's not entirely clear how serious the conversation is.
Foval's claims, which paint him as a nefarious master of the political dark arts, have been questioned by some reporters. As the Washington Post notes, one of the protests Foval takes credit for arranging was actually organized by another group. The paper also takes issue with O'Keefe's presentation of "bird-dogging" — the act of pestering candidates with specific, difficult questions — as anything other than a "common activist tactic."
One of the people implicated in the fraud scheme alleged in the second video has called out the editing. Caesar Vargas, an activist who appears in the second video, wrote on Facebook that he expressly told the undercover operative that voting twice was illegal, even though the video suggests otherwise. Given O'Keefe's history of selective editing, Vargas's claim should probably be taken seriously.
The Trump campaign hasn't let questions about the videos stop it from trumpeting them as proof that voter fraud is nigh. As campaign manager Kellyanne Conway told Sean Hannity on Tuesday, "Once again, Donald Trump was ahead of his time. We see that it goes right to the top."