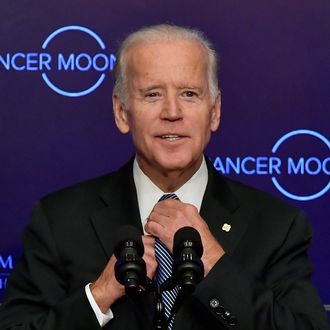 Biden discusses the cancer moonshot mission at the Edward Kennedy Institute on October 19, 2016.
Photo: Paul Marotta/Getty Images
As members of the Obama administration make their final push to ensure they're not succeeded by Donald Trump, they're also offering some clues as to where we'll find them after January 2017.
During an unannounced visit to a Hillary Clinton campaign office in Toledo, Ohio, on Monday, Vice-President Joe Biden mentioned that he's in talks with "a couple of major universities," according to Politico, and said he plans to do something related to domestic and foreign policy.
"I may write a book. This might disappoint you, it won't be a tell-all book," Biden added.
Last year, Yahoo News reported that back in 2012, the veep's alma mater, the University of Delaware, had pitched opening a "Biden Center" on campus, which would function like a presidential library and let him continue his work after leaving office.
Biden has made it clear that whatever other role he takes on, he intends to keep working on the "cancer moonshot" President Obama tasked him with shortly after his son Beau died of brain cancer. Hillary Clinton has said that she wants Biden to continue his efforts to accelerate cancer research, but in September, he said that doesn't mean he would have a formal role in her administration.
"What Hillary talked about is, as I understood it, me being able to have the same authority over elements of her administration from the outside that I have now from the inside, to be able to coordinate those efforts," Biden told STAT, adding, "I'm going to stay involved in this effort as long as I'm alive."
Last week, President Obama signaled that when he leaves office he intends to focus on a Democratic redistricting project led by former Attorney General Eric Holder, which will challenge the GOP's hold on state-level politics.
When asked on Monday if President Obama will leave the country if Donald Trump wins the election, White House press secretary Josh Earnest offered a quip that Politico described as a "dodge": "He's working very hard to make sure that nobody has to leave the country as a result of an electoral outcome that the president doesn't support."