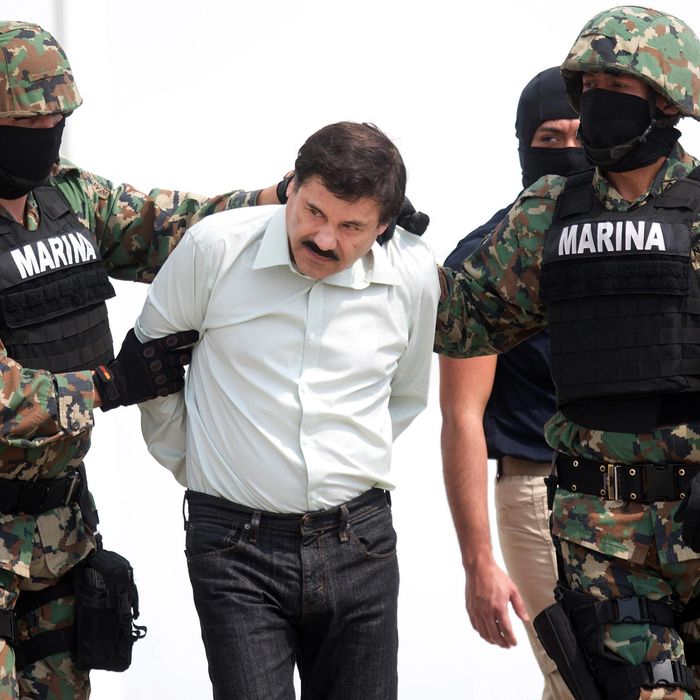 El Chapo before one of his many escapes.
Photo: Xinhua News Agency/Xinhua News Agency/Getty Images
Judge Vicente Bermudez Zacarias — who was presiding over the case of serial prison-escapee Joaquin "El Chapo" Guzman — was shot in the head on Monday while jogging near his home in Metepec, just outside of Mexico City. He died later that day in the hospital.
Zacarias, 37, worked on a series of high-profile cases involving drug kingpins, including Miguel Treviño, a one-time leader of the Zetas Cartel, but had not been assigned any police protection.
Appearing on television on Monday, Mexican president Enrique Peña Nieto said only that he had asked his attorney general to investigate the slaying.
Guzman, the head of the Sinaloa Cartel, is considered one of the world's most powerful and dangerous crime lords. He made headlines for leading authorities on multiple nationwide manhunts after escaping from maximum-security prisons twice, once in 2001 and again in 2015.
Recently Judge Zacarias had been working on legal challenges filed by Guzman's lawyers in an effort to to stop his extradition to the United States. American officials are confident he will be extradited by 2017.
Guzman is currently being held in a maximum-security facility in Ciudad Juárez, just across the border from El Paso, Texas.