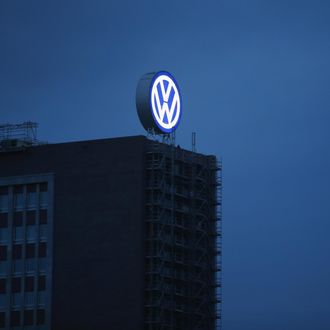 Photo: Sean Gallup/Getty Images
A little more than a year after the world learned that Volkswagen had been cheating on its emissions tests, a federal judge has approved a massive civil settlement of $14.7 billion with American consumers and the U.S. government. It's believed to be the largest payout ever from an automaker.
Volkswagen owners will get about $10 billion of the settlement, in the form of a buyback or repair to modify affected cars so they actually meet emissions standards — once a fix is approved by the government, that is. With either option, owners of affected cars will also get a cash payout between $10,000 and $51,000, depending on the model of car, reports the Los Angeles Times.

The rest of the money will serve as redress for pumping pollutants into the atmosphere. An estimated $2.7 billion will go to an environmental trust to fight pollution, and the other couple of billions will go toward reinvestments in zero-emissions vehicles.
The buyback program is set to begin right away, and VW owners have almost two years — until September 1, 2018 — to submit a claim. The settlement will cover about 500,000 U.S. cars — though VW admitted that about 11 million diesel-powered vehicles worldwide were equipped with devices that helped them pass emissions tests, but when cars were on the road they spewed out about 40 times more nitrogen oxide (a greenhouse gas) than is permitted under EPA regulations.
Volkswagen's troubles are not over just yet. A civil settlement is still under negotiation for other types of affected vehicles (this settlement covers VW and some Audi vehicles with 2.0-liter engines; the 3.0-liter-engine suit is still being negotiated, says NPR). Volkswagen has also agreed to pay $1.2 billion to U.S. dealers over the scandal. Plus, some individual states are suing Volkswagen for violating environmental laws. So are other countries. The Department of Justice also has an ongoing criminal probe into the scandal.