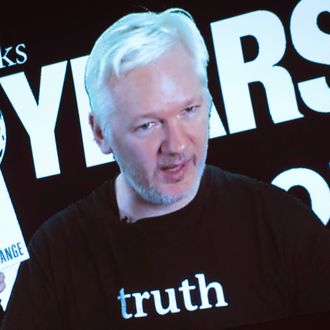 Photo: STEFFI LOOS/AFP/Getty Images
WikiLeaks founder Julian Assange promised on Tuesday to publish reams of documents in the coming weeks, including "significant material" on the U.S. presidential election, which he said will be revealed before Election Day on November 8. Assange, who spoke to a news conference in Berlin from inside London's Ecuadorian embassy, also said revelations will be made about "war, arms, oil, Google," and himself.
The details of WikiLeaks' election-related release remain murky, though Assange did say it is not expressly intended to damage Hillary Clinton's shot at the White House. That "we intend to harm Hillary Clinton, or I intend to harm Hillary Clinton, or I don't like Hillary Clinton, all those are false," he said.
Although some had speculated that Assange would release something juicy during this very press conference, he brushed aside that idea. "Understand, if we're going to make a big publication, we're not going to do it at 3 AM in the United States," he said.
The lack of information in the early morning press conference has enraged some of Assange's fans, including the prince of paranoia, InfoWars founder Alex Jones, who was so worked up about the lack of a promised data dump that he briefly channeled Ludacris.