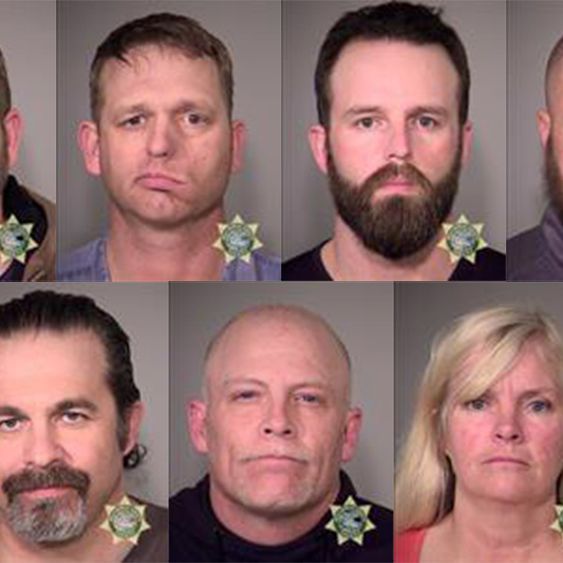 Mugshots of the suspects from the top left, Ammon Bundy, Ryan Bundy, Ryan Waylen Payne, Brian Cavalier, from the bottom left, Peter Santilli, Joseph Donald OShaughnessy, and Shawna Cox.
Photo: Handout/Getty Images
In a verdict that shocked even defense attorneys, on Thursday seven leaders of the armed 41-day occupation of the Malheur National Wildlife Refuge in Oregon earlier this year were acquitted on all charges. A jury found brothers Ammon and Ryan Bundy, and their five co-defendants not guilty of various felony weapons and conspiracy charges, and was hung on one charge of theft of government cameras against Ryan Bundy.
A circus-like demonstration outside the federal courthouse in Portland turned into a celebration on Thursday afternoon, complete with a charcoal grill and a horse wearing a red, white, and blue saddle, the Washington Post reports. Supporters of the militants hailed the decision as a triumph over government tyranny. People had traveled from across the country to join the occupation, which was a protest of the federal government's control of public land, and thousands more watched it unfold on social media.
"We have to be vigilant people," defendant Shawna Cox said on the steps of the courthouse. "Wake up, America, and help us restore the Constitution. Don't sleep with your head in the sand."
The situation was charged within the courtroom as well. Ammon Bundy's lawyer, Marcus Mumford argued with the judge that his client should be released, though the Bundys are still facing charges in Nevada stemming from a 2014 standoff with federal agents. U.S. marshals tackled Mumford, tased him, and took him into custody.
The verdict sparked outrage across the country from those who saw it as an example of white privilege in action. All of the defendants and jurors were white, and since the beginning of the standoff people have complained that Black Lives Matter protesters are treated much more harshly than the Oregon militants.
Occupier David Fry's attorney, Per Olson, offered a different explanation. "I think the jury saw through this and saw these were well-meaning, well-intentioned individuals," he said following the verdict. "They all came out here for a good purpose: because they cared."
Oregon Governor Kate Brown said she was disappointed with the decision. "The occupation of the Malheur Refuge by outsiders did not reflect the Oregon way of respectfully working together to resolve differences," she said.
Some warned that the outcome puts public-land employees in greater danger. "I just didn't think it was possible that 12 jurors could look at pictures of armed men taking over a federal facility and say that's not illegal," said Kieran Suckling, executive director of the Center for Biological Diversity. "This jury has just declared open season on federal facilities. People are going to get killed because of this verdict, because this jury has just given militias the green light to go after federal facilities with rifles."