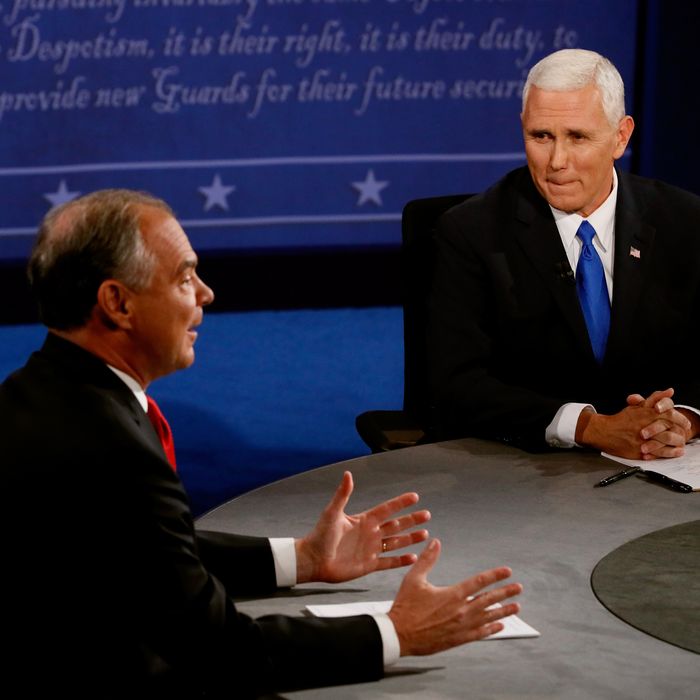 Low ratings. Sad!
Photo: Pool/Getty Images
In a weird way, this will probably make Donald Trump happy: Tuesday night's vice-presidential debate was the third-lowest-rated in the 40-year history of such televised showdowns. Per Nielsen, fewer than one in four U.S. TV homes tuned in to watch Senator Tim Kaine conduct a real-time fact-check of Trump and his running mate, Governor Mike Pence. The 90-minute event averaged a 22.1 household rating, a number which translates into around 35.3 million viewers across the four major broadcast networks, as well as CNN, MSNBC, and Fox News Channel.
Even with the additional couple million more viewers who caught the debate on C-Span, PBS, and some smaller networks, as well as streaming, the Pence-Kaine debate will end up with a lower rating (and overall audience) than all but the 2000 Dick Cheney–Joe Lieberman and 1996 Al Gore–Jack Kemp wonkfests. It's also down about 25 percent vs. 2012's Joe Biden–Paul Ryan debate (31.9 rating and 51.4 million viewers over 12 networks) and not even in the same universe as 2008's Sarah Palin-Joe Biden spectacular (41.7 rating and 69.9 million viewers over 11 channels). Trump can now (not) sleep soundly tonight knowing that, without his presence, ratings plummet.