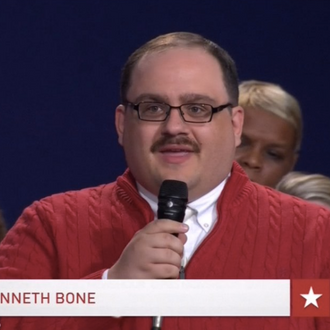 I love you, Kenneth Bone.
Tonight's presidential debate was run as a town hall, meaning that during the course of the 90-minute event, some audience members (undecided voters from Missouri) took the mic and asked candidates specific questions. Among these participatory and inexplicably undecided citizens was a man named Kenneth Bone, whose vibrant red sweater, pure and earnest face, and enthusiastically delivered question about energy sources have boosted him to internet-celebrity status.
Select All is proud to introduce the man, the myth, the legend: Kenneth Bone.
Bone wrapped up his evening with a handshake from former president Bill Clinton. Which was definitely the high point of Bill's night (other than starring in a burgeoning meme).
God bless America and God bless Kenneth Bone.
Update 10/10/16: Following his meteoric rise to fame, we've learned several new and important details about Mr. Bone. We've updated this post accordingly.
Bone actually hadn't planned to wear the now-iconic red sweater, but had to make a spur-of-the-moment change after ripping his suit.
He appeared on the news this morning still rocking said sweater.
And while many parody and impostor accounts popped up last night, we finally know where to find Bone on Twitter, @KenBone18.
Once again, God bless America and God bless Ken Bone.