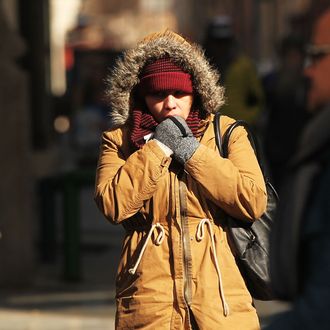 The potential joys of La Niña.
Photo: Spencer Platt/Getty Images
The world braced for "Godzilla" El Niño last year, but this time it's all about his sibling, La Niña. Forecasters are predicting the weather phenomenon will develop in late fall or early winter, and will deliver to the northern United States the crappy gift of a colder, wetter start to 2017.
La Niña forms when Pacific Ocean temperatures near the equator are a colder than normal — the opposite of El Niño, which is characterized by warmer-than-average temperatures. But unlike the dire El Niño predictions last year, this year's La Niña is expected to be weak and "short-lived," say NOAA forecasters.
What does that mean for the East Coast? According to NOAA's predictions, it looks like we should expect, well, winter. Cooler temperature will dominate near the Great Lakes and by the Canadian border; it should be much warmer across the Southern U.S. (including Southern California, which is bad news for drought-plagued region). But a big strip of the country, including the mid-Atlantic, is basically a climate grab bag: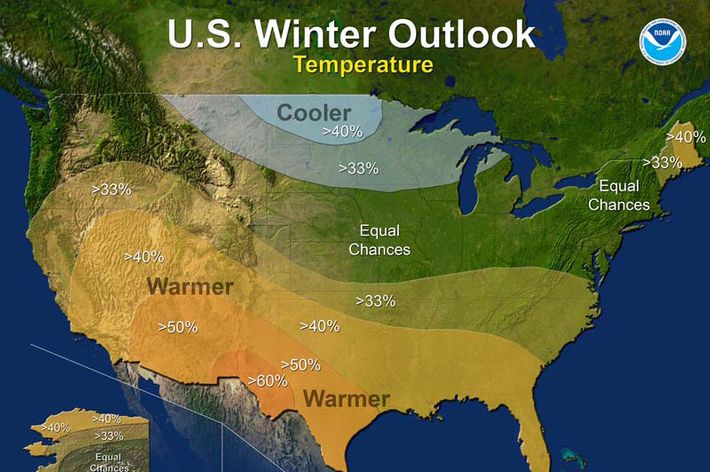 The same goes for wet weather. La Niña usually brings more precipitation in the north, less in the south, and the East Coast will find out later:
In past years, La Niña has normally meant chillier temperatures and cold spells in the Northeast — but often without those snowmaggedons. What is clear is that 2016 is almost definitely going to be the hottest year on record, and it's not even over yet. So, really, what's a couple of polar vortices in the face of civilization-threatening climate change?