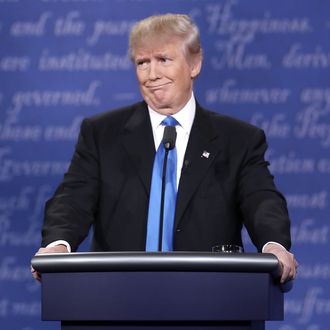 Photo: Win McNamee/Getty Images
Earlier this evening, the New York Times released several pages of Donald Trump's 1995 tax returns. According to the returns, the Republican presidential nominee reportedly took a $916 million loss on his income that year, using a tax rule which would allow him "to cancel out an equivalent amount of taxable income over an 18-year period," the Times explains. Which means it's possible that the last time Trump paid income taxes, Bill Clinton was president, Cher Horowitz was bopping around Beverly Hills, and the Spice Girls were still together.
About an hour after the returns were published, Twitter users started tweeting with the hashtag #LastTimeTrumpPaidTaxes and offering insight into what life was like, well, the last time Trump (maybe) paid taxes. It was a simpler time: Cell phones came in bags, Destiny's Child had four members, there were no Star Wars prequels, and Tiffany Trump was 2.
Let's take a walk down memory lane to 1995, shall we.
The New York Times reports the returns were mailed to them from an anonymous source in New York City and were marked with Trump Tower as the return address. Which is an excellent own, but maybe next time save yourself the postage and send an email instead, all you would-be tipsters out there. After all, sending an email would have been a very cool thing to do in 1995.