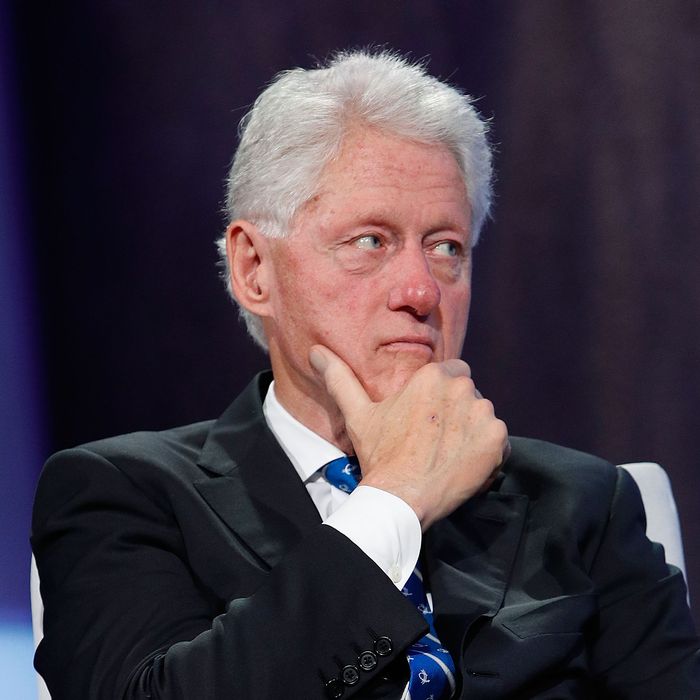 Photo: Taylor Hill/WireImage
Bill Clinton has not been much of a presence in Hillary Clinton's current presidential campaign, which is smart for a number of reasons. As The New Republic's Jeet Heer points out, in addition to being targeted by the Trump campaign over sexual-misconduct allegations, the former president is not his wife's best surrogate. On the campaign trail he can be gaffe-prone and undisciplined, plus some of his politics are out of step with today's Democratic Party (which is why he's mostly been dispatched to rural areas where he can rally white working-class voters who supported him in the '90s).
Heer forgot one other factor, which was highlighted in the latest batch of hacked emails released by WikiLeaks: There are a number of ethical concerns related to how Bill Clinton ran his foundation and earned a living after he left the White House. Those issues were spelled out more clearly than ever on Wednesday in a memo stolen from the email account of Clinton campaign manager John Podesta. In the 13-page document, Doug Band, one of Bill Clinton's closest advisers, described how he pressed major corporations that were clients of his firm, Teneo, to donate money to the Clinton Foundation and employ the former president personally as well.
According to the Washington Post, Band composed the memo in 2011 and presented it to attorneys reviewing the Clinton Foundation's activities. At the time, Band was working for Clinton and the political-consulting firm he co-founded. In the memo, Band defends his work for the Clinton Foundation and Teneo, arguing that it was beneficial for everyone.
"Since President Clinton left office, I have sought to leverage my activities, including my partner role at Teneo, to support and to raise funds for the Foundation," Band wrote. He goes on to list a number of Teneo clients who he says initiated or increased their giving to the Clinton Foundation thanks to him. The list includes Coca-Cola, which gave $4.3 million, Barclays, which gave $1.1 million, and Dow Chemical, which gave $780,000, all over a four-year period.
Band went on to explain that he simultaneously encouraged the companies to provide personal income to President Clinton, hiring him to make speeches or act as a consultant. For example, Laureate International Universities, a chain of for-profit universities, donated to the foundation and paid the former president $3.5 million annually to serve as honorary chancellor and "provide advice." Band said that he and another Clinton aide "have in effect served as agents, lawyers, managers and implementers to secure speaking, business and advisory service deals."
From 2001 to 2011, according to Band, "President Clinton's business arrangements have yielded more than $30 million for him personally with $66 million to be paid out over the next nine years, should he choose to continue with the current engagements."
Previous emails shed light on the feud between Band and Chelsea Clinton. In one email, Chelsea accused several of her father's aides of referring to him in "derogatory" terms, taking "significant sums of money from my parents personally," and installing spyware on her chief of staff's computer. "My father was told today of explicit examples at CGI of Doug/ Teneo pushing for — and receiving — free memberships — and of multiple examples of Teneo 'hustling' business at CGI," she wrote.
Chelsea eventually helped bring in an outside law firm to review the foundation's practices, which is why Band composed the memo. It appears that Band tried to defend his own practices by pointing out that if he had conflicts of interest, so did the Clintons.
"I signed a conflict of interest policy as a board member of cgi [the Clinton Global Initiative]," Band wrote in an email to Podesta, adding, "Teneo represents 4 cgi sponsors, 3 of which teneo brought to cgi. Oddly, wjc does not have to sign such a document even though he is personally paid by 3 cgi sponsors, gets many expensive gifts from them, some that are at home."
In another email, Band complained to Podesta that Chelsea was being disrespectful and overreacting to concerns about how the foundation operated. "She is acting like a spoiled brat kid who has nothing else to do but create issues to justify what she's doing because she, as she has said, hasn't found her way and has a lack of focus in her life," he said.
Band does not work for Bill Clinton any longer, and he's less involved in the foundation's activities.
Teneo issued a statement on Wednesday saying it did not receive "any financial benefit" from its ties to the Clinton Foundation. "As the memo demonstrates, Teneo worked to encourage clients, where appropriate, to support the Clinton Foundation because of the good work that it does around the world," the statement said.
Band's memo does not include any direct references to Hillary Clinton, but if she's elected, rest assured that any conflicts of interest in her involvement with the Clinton Foundation will be very thoroughly explored.