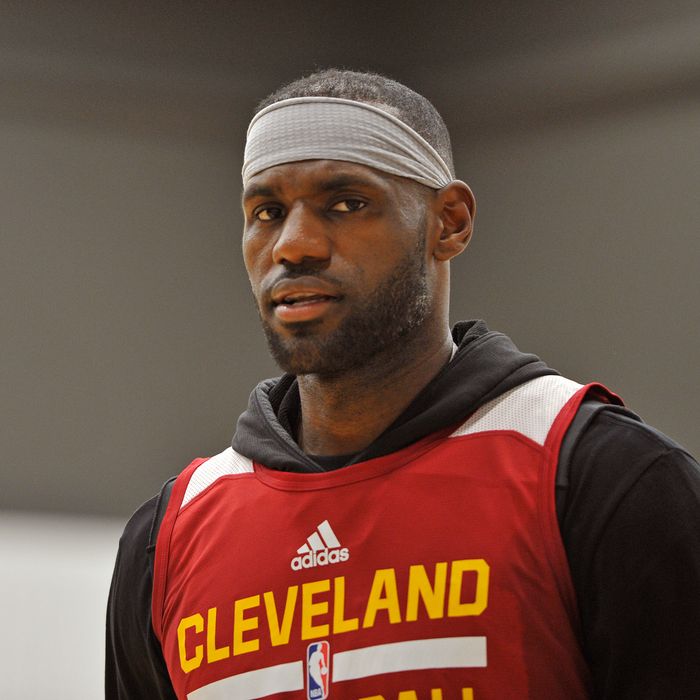 King James.
Photo: David Liam Kyle/NBAE/Getty Images
NBA superstar LeBron James endorsed Hillary Clinton for president in an editorial that ran in Business Insider on Sunday evening and will appear in the Akron Beacon Journal on Monday.
James is perhaps the most famous and influential celebrity to come out of Ohio — sorry, Drew Carey — and his endorsement could have a real impact in the closely contested battleground state (a Real Clear Politics polling average currently has Trump up by 1.8 percent in a four-way race).
In his thoughtful endorsement, James reflects on his childhood growing up in poverty in Akron and discusses his work with the LeBron James Family Foundation reaching out to at-risk youth in the city.
I am determined to make sure my kids in Akron have what they need to become their best selves. Opportunities, a support system, and a safety net for kids in poverty or kids in single-parent households shouldn't be limited to those lucky enough to be blessed with athletic talent … I don't want to see any of them fall through the cracks. That easily could have happened to me.
Ultimately James says that he wants to support a candidate who "truly understands the struggles of an Akron child born into poverty."
"When I think about the kinds of policies and ideas the kids in my foundation need from our government, the choice is clear," he writes, "That candidate is Hillary Clinton."
James praises Clinton as a "champion for children and their futures," and also says that he believes that Clinton will continue to "build on the legacy of my good friend, President Barack Obama. I believe in what President Obama has done for our country and support her commitment to continuing that legacy." He continues:

She wants to make sure kids have access to a good education, no matter what zip code they live in. She'll rebuild schools that are falling apart and put more money into computer science. She'll make sure teachers are paid what they deserve so they can give everything to their students.
Finally, James discusses the violence bedeviling the black community.
I am not a politician; I don't know everything it will take finally to end the violence. But I do know we need a president who brings us together and keeps us unified. Policies and ideas that divide us more are not the solution. We must all stand together — no matter where we are from or the color of our skin. And Hillary is running on the message of hope and unity that we need.
"So let's register to vote," he concludes, "show up to the polls, and vote for Hillary Clinton."