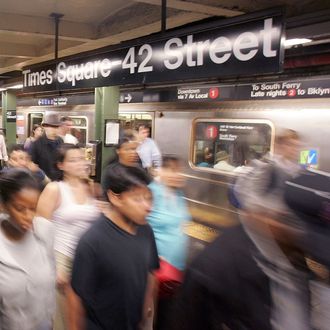 Photo: Mario Tama/Getty Images
An argument on the subway turned violent Thursday afternoon, after a man was stabbed in the forehead and the arm at the Times Square subway station at 42nd Street and Eighth Avenue. Two men reportedly started squabbling on the train near West 4th Street, heading uptown, when one of the men knifed the other commuter and then fled from the midtown station.
NYPD appeared to be on the scene, and police activity caused a slew of subway delays at the start of the evening rush.
Let's hope this isn't becoming a thing again: New York City dealt with a spate of slashing at the beginning of the year, but despite that uptick, the number of slashings in 2016 was on pace to match those in 2015 as of September. But last month, a guy was bloodied with a box cutter at the Bryant Park subway station, and over the weekend a Law & Order actor was brutally slashed on the E train. And another awful crime trend got in the mix last week when a creepy clown chased a kid with a knife at the 96th Street station.