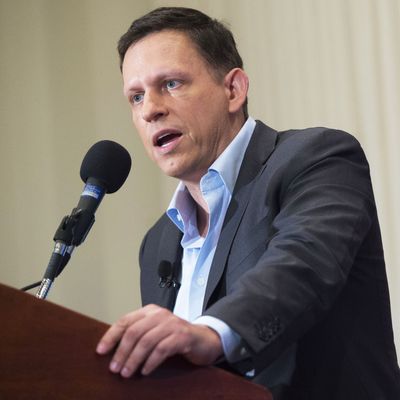 Thiel discusses his support for Trump at the National Press Club.
Photo: SAUL LOEB/AFP/Getty Images
Near the end of his stultifying speech at the National Press Club this morning, Facebook billionaire Peter Thiel cribbed an argument first made by The Atlantic (and enthusiastically deployed by the Trump campaign itself): The media takes Donald Trump literally, but not seriously, while Trump supporters — including Thiel himself — take the Republican presidential candidate seriously, but not literally.
Moments later, when addressing the lawsuit he funded that led to Gawker Media's bankruptcy, Thiel described former editor A.J. Daulerio as an "aspiring child pornographer" — a reference to an ill-advised but nonetheless wholly sarcastic remark Daulerio had made during a deposition. Presidential candidates are not to be taken literally. But bloggers are.
This was about the level of analysis we've been treated to throughout Thiel's intermittent appearances in the press, most recently during today's remarks and the toothless Q&A that followed: conventional arguments borrowed from elsewhere, deployed crudely, and abandoned when no longer useful. Over the weekend, speaking to the New York Times of Hillary Clinton's likely presidency, Thiel said, "There will be an important role for me and others to somehow play in speaking truth to power," neglecting to acknowledge that he just forced one of those "others" — one of the first sites to report on Clinton's use of a private email account — into bankruptcy.
It's odd: Regardless of whether they view him as a benevolent futurist or scheming magnate, most people, it seems, perceive Peter Thiel as very, very smart. It's this assumption of intelligence, along with the sheer iconoclasm of the stance, that's made Thiel's support for Trump fascinating to journalists and tech observers: Surely he has a sophisticated and convincing argument for supporting the silliest and most incoherent presidential candidate in living memory.
But every speaking engagement Thiel has taken over the past few months, and every interview he's given (all exclusively to the New York Times), has revealed that Thiel — much like the rest of Silicon Valley — loves speaking in broad platitudes and few specifics. His analysis, of the election and the problems facing the country, is no more sophisticated than any other Trump supporter or political reporter: He subscribes to the general idea that politics is broken and only an outsider can fix it. "We're voting for Trump because we judge the leadership of our country to have failed," Thiel said, aligning himself with the 40 percent or so that support the GOP candidate and positioning himself, as he often does, as a perpetual outsider.
The problem may be that the media is taking Thiel seriously without taking him literally. That is: His support for Trump isn't a down payment on the alt-right or a long-shot bet on political favors. Thiel doesn't support Trump because he's a super-genius who can see deep into the future. He supports Trump for exactly the reasons he keeps telling us: because he's a crank who doesn't have a very deep understanding of politics.
Take Thiel's recent pledge of more than a million dollars to the Trump cause, announced just after the Access Hollywood tape that definitively cast Trump as a sexual predator. "I didn't think about the donation as much as I should have," Thiel admitted, having earlier admitted that "the tape was in extremely poor taste, extremely inappropriate."
He has a similarly shallow read on his own funding of the Gawker lawsuit — one that betrays his claims about sticking up for the common citizen: "If you're a single-digit millionaire like Hulk Hogan, you have no effective access to our legal system." (During the Q&A session he insisted he's "been involved in [funding] the Gawker case, nothing else"; in May, when Thiel revealed himself as Hulk Hogan's benefactor, he told the New York Times that, regarding litigation financing, "It's safe to say this is not the only one.")
The Thiel perspective was laid bare right at the very end of his appearance, when he baldly noted, "I always have a somewhat schizophrenic view of politics," that it is both a nasty business and an important one. "I'll occasionally get involved, but don't want to make it a full-time thing." That's the Thiel stance: He'll show up when he feels like it. He'll talk openly and honestly about the issues facing America, but not with the National Press Club, where journalists weren't allowed to leave the room until Thiel had left the building. He'll speak truth to power, unless it inconveniences him. And he'll stay a powerful and influential figure in Silicon Valley. And as long as the media keeps taking him seriously and not literally — as a genius with an eccentric worldview and not as an eccentric without much to contribute — he'll get away with it, too.