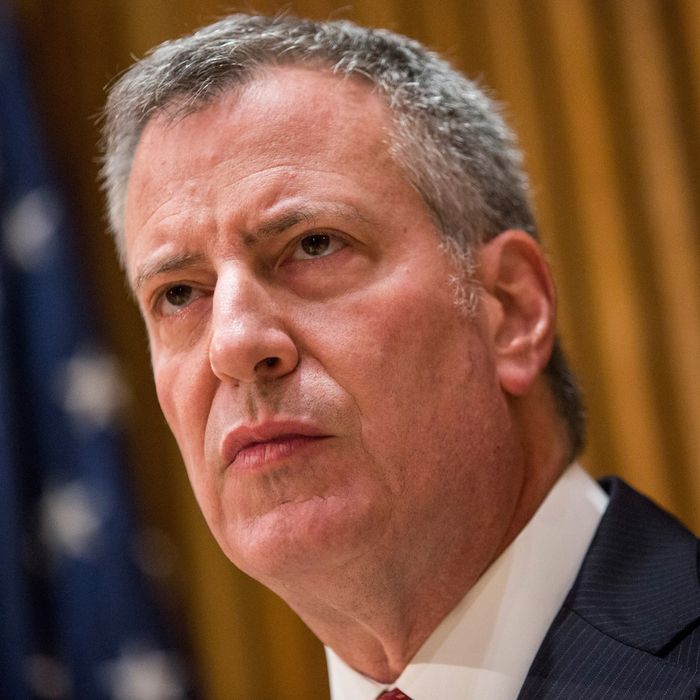 Up, up and away.
Photo: Andrew Burton/Getty Images
Mayor Bill de Blasio has a bit of a reputation for tardiness, and now he's getting some flak for potentially finding something of a loophole: using a helicopter. Coptergate took off after people spotted an NYPD helicopter in the middle of Prospect Park, Brooklyn, on Friday evening during rush hour. The mayor reportedly took that chopper to fly to a 6:30 p.m. speaking event in Long Island City, Queens, which the New York Times points out is about a half-hour, seven-mile trip for the plebeians on the BQE.
A spokesman for the mayor, Eric Phillips, said on Twitter that the mayor was "in meetings" in Brooklyn prior to the flight, though de Blasio's public schedule was reportedly open between 2 p.m. and 6:30 p.m. It was quickly pointed out that the mayor's favorite workout spot, the Prospect Park Y, is close by the site where the copter took off, though that theory was shot down by the mayor's spokesman, says the New York Daily News.
The mayor's office hasn't given any details on the meetings in question. (Phillips told the New York Times, "We don't detail internal or personal meetings.") A source told the New York Post that de Blasio has been spending Fridays in Park Slope taking meetings and making fundraising calls for his 2017 reelection campaign. The mayor often visits, and works from, haunts in his old neighborhood.
The NYPD also didn't elaborate about the mayor's chopper ride. John Miller, the NYPD deputy commissioner for intelligence and counterterrorism said in a statement that "[t]he security and transportation of the mayor are determined by the NYPD. We do not discuss the specifics of security."
Unlike his predecessor, Mayor Mike Bloomberg — who really, really liked helicopters, and had his own — de Blasio hasn't used the mode of transport all that frequently. In 2015, when he was getting a lot of flak from the local media for being late all the time, a NY1 reporter suggested helicopter travel as a solution to get places faster; the mayor responded that they were "not my thing." But he seems to be opting for more chopper rides recently, including a September trip to Rikers, during which the aircraft suffered mechanical problems, and to attend the presidential debate at Hofstra University. According to the Daily News, de Blasio has gotten over his nervousness about flying in helicopters.